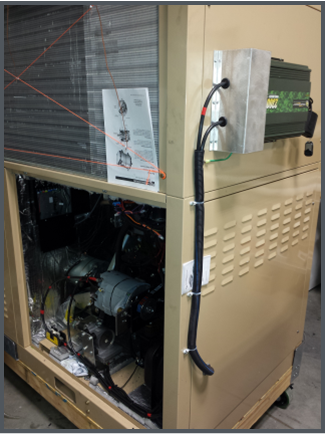 Multi-Function Fuel-Fired Heat Pump prototype showing generator for auxiliary system power Top: 24V DC to 120V AC transformer Bottom: New low cost generator ($500)
Lead Performer: Oak Ridge National Laboratory - Oak Ridge, TN
Partners:
-- Southwest Gas - Las Vegas, NV
-- IntelliChoice Energy - Las Vegas, NV
-- NextAire - Las Vegas, NV
DOE Funding: $2,804,000
Cost Share: Provided by CRADA partner
Project Term: October 1, 2010 - September 30, 2015
Project Objective
Oak Ridge National Laboratory is developing and promoting the market introduction of a fuel-fired, multifunction residential heat pump that can achieve the 20% heating, ventilation, and air conditioning (HVAC) and 60% water heating energy savings required to meet the Building Technologies Office (BTO) goal of 50% reduction in building energy use by 2030. Specific objectives include:
Reducing primary energy consumption by 30%, with a cooling source coefficient of performance (COP) of 1.3 and a heating source COP of 1.5
Reducing water heating energy consumption by 80%
Improving the reliability of the electric grid by reducing peak power demand by 85%
Using natural gas, an abundant U.S. energy resource, as a fuel
Reducing emissions of carbon by 30%, nitrogen oxide by 30%, and sulfur dioxide by 95%
A generator/alternator and battery set sufficient to power all electrical items (fans, controls, etc.) and provide capability to start and operate even when the electric grid is unavailable due to inclement weather events or other causes.
Project Impact
ORNL estimates that this product can provide HVAC and water heating services to residences with overall energy savings of 50-55% vs. conventional minimum efficiency equipment (>35% HVAC savings and >65% WH savings). This could lead to a cumulative energy savings potential of 0.25 Quads per year based on a penetration rate of 10% and compared to separate HVAC and water heating equipment at minimum efficiency levels.
Contacts
DOE Technology Manager: Tony Bouza
Performer: Ed Vineyard, Oak Ridge National Laboratory
Related Publications