The DOE Zero Energy Ready Home label is the symbol of excellence for new homes. Join the ranks of leading edge builders who provide their customers with proven innovation, sustained value, no or ultra-low utility bills, energy and water savings, and increased comfort—not to mention a safe and healthy home for generations to come.
Register to take a leadership role today!
What is a DOE Zero Energy Ready Home? A DOE Zero Energy Ready Home is a home that meets all of the criteria found in the DOE Zero Energy Ready Home National Program Requirements. DOE Zero Energy Ready Homes are verified by a qualified third-party and are at least 40%-50% more energy efficient than a typical new home. This generally corresponds to a Home Energy Rating System (HERS) Index Score in the low to mid-50s, depending on the size of the home and region in which it is built.
All DOE Zero Energy Ready Homes are so efficient a small renewable energy system can offset most or all annual energy consumption.  Look for the label.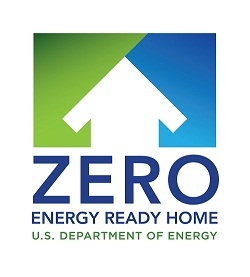 The Homes to the Power of ZERO fact sheet provides a general comparison of DOE Zero Energy Ready Homes to recent vintage existing homes and ENERGY STAR Homes on relative levels of comfort, indoor environment, durability, advanced technology, construction quality, and energy efficiency. Click here to learn about the methodology behind the comparison. 
What is expected of partners? Every type of partner has its own role. Review the appropriate partnership agreement package for more information on partner expectations:

How do I become a partner? To become a partner, register online by completing contact information, uploading your company logo, and making additional commitments if you are a builder. Once you've given your electronic signature and submitted your registration, look for a confirmation by email with your password to access your account.

How do I learn about the DOE Zero Energy Ready Home benefits and how to qualify a home? To learn more about the DOE Zero Energy Ready Home join us at an event or enjoy online training and webinars http://energy.gov/eere/buildings/doe-zero-energy-ready-home-resources.

How do I get recognized as a partner? Active accounts will appear on the locator tool making it easy for homebuyers to find you. Login  to your account to download the DOE Zero Energy Home label for use on your certified home; use the partner logo on  your website and marketing materials and print your customized brochure to easily share the benefits of DOE Zero Energy Ready homes to your customers.  Find more ideas in the logo use guidelines.  For additional recognition, apply to the Housing Innovation Awards.

How do I certify homes? To certify homes, work with a registered third-party verifier to model and inspect your home. Be sure to email your completed DOE Zero Energy Ready Home verification form  to receive recognition on the locator tool.