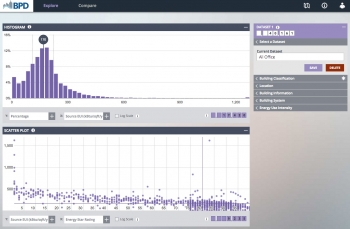 BPD's Explore Tool allows users to filter the BPD to create and save custom peer group datasets based on specific variables including building types, locations, sizes, ages, equipment, operational characteristics and more.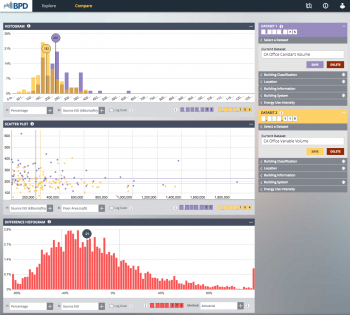 BPD's Compare Tool allows users to compare any two peer groups of buildings created in the Explore tool within a single view. For example, users can compare the energy performance of large office buildings in different cities.
Since its initial launch in the summer of 2013, the Building Performance Database (BPD) has grown to include over 800,000 records from existing residential and commercial buildings across the country—making it the largest database of its kind. As part of the 2015 development process, recent enhancements to the BPD were made to improve the user interface and add new data analysis features. Now, more and more users are relying on the database as a source for quality information on energy performance in real buildings.
Filling a gap in the market, the BPD provides public access to anonymized data on hundreds and thousands of buildings and homes.  Increased access to energy-related information in buildings allows end-users to make key decisions on energy efficiency projects, policies and programs. For the first time, users can compare variables across regional markets, uncover data trends, and draw conclusions that would otherwise be impossible or costly to identify.
So how are people actually using the BPD to make energy decisions? This article will highlight real examples from both users and third parties.
Mining the database for insights on market trends and opportunities
Here is an inside look at how users are accessing the database to meet research and business needs:
Retro-Commissioning Training
Facilities Dynamics Engineering is an engineering and commissioning firm focused on bridging the gap between design, construction, and operations in facilities. While their core business is new construction and existing building commissioning, the firm also conducts field training on retro-commissioning, a process that seeks to improve how building equipment and systems function together. As part of the retro-commissioning training process, the students compare the facility they are looking at to peers in the BPD in order to understand the energy savings potential that might exist for the facility in question. The firm recently benchmarked a dental clinic against BPD data as they walked through the clinic's energy systems in real time.
"The BPD gives us confidence in the viability of the facility as both a learning opportunity for our students and an opportunity to improve performance and save energy at the same time."

– David Sellers, Facilities Dynamics Engineering
Prioritizing Audits and Informing M&V
Vermont Energy Investment Corporation (VEIC) is a mission-driven nonprofit that works to reduce the economic, social, and environmental costs of energy production and use through the provision of program design, technical expertise, energy planning, public policy and implementation services. VEIC operates three comprehensive energy utilities.  Energy Consultants at VEIC  use the BPD to compare information they have on the energy use intensity (EUI) profile of specific  buildings to similar facilities in the same climate region, in order to determine whether or not an energy audit is recommended. VEIC has also used the BPD to generate proxy data for a hospital energy efficiency program measurement and verification plan. With no real data available from the program yet, VEIC referenced average EUI data from the BPD on 33 hospitals in the climate zone to help create a baseline for the M&V plan.
"The BPD is valuable source of information with powerful filters. Being able to filter by climate zone, building type, building construction year, and building square footage, gives us key benchmarking data, even before we visit a facility."

– Maribella Ibarra, Energy Consultant at VEIC
Checking Savings Estimates
The Energy Coalition (TEC) is a California-based 501(c)3 nonprofit with over 40 years of experience designing and implementing resource conservation programs that transform resource use, generate capital and move people to action. As a social change organization, TEC helps create an abundant and healthy world by inspiring others to be architects of our sustainable future. TEC designed and implements the Southern California Regional Energy Network (publicly known as The Energy Network) and uses the BPD data to double-check the savings recommendations from audits completed by third party contractors. The BPD is also used as a quality assurance tool to verify energy consumption datasets built for Los Angeles County's County via UCLA's "Energy Atlas"—an interactive web-based platform that will provide detailed information about the region's energy and climate strategies.
"The BPD contains cleansed and quality checked building performance data, making it an excellent and reliable resource for fact checking our program metrics. General program design and target saving estimates are helpful to cross reference with the BPD"

– Marc Costa, The Energy Coalition
Supporting a new wave of innovative products
The BPD also offers an Application Programming Interface (API) – a software-to-software interface that allows applications to talk to each other. Several companies are leveraging the API to design software applications that help consumers understand their energy use and investment options.
Weighing Energy Price Options
Choose Energy is an online marketplace that helps residents and businesses shop for their ideal energy rates and plans. The platform uses a series of predictive energy consumption models built using a mix of proprietary and public data sources. Through the BPD's API, Choose Energy can access empirical data on energy consumption in homes across the country to help validate their models and provide users with greater certainty when choosing an energy service provider.
"The BPD is a fundamental tool in helping companies like ours to take information that is very complex for the end-consumer to understand or interpret, and turn it into something that is meaningful for them."

– Ethan Wais, Choose Energy
Telling a Home's Utility Story
ResiSpeak facilitates energy and water resource management for homes. The tool sources energy and weather-related metrics through the BPD's API and other public databases such as the National Weather Service. ResiSpeak helps homeowners, contractors, and energy efficiency program managers understand home utility data, diagnose problems, identify efficiency potential, and track and measure post energy-retrofit savings. Access to the BPD's API enables ResiSpeak to compare home energy performance to peer group data. This gives users the ability to measure impacts and understand how a home or group of homes participating in an energy efficiency program stack up to others in the region
"Having the BPD data through an API allows ResiSpeak to offer homeowners across the country the ability to instantly rank their home energy performance against an in-state dataset."

– Daniel Kauffman, ResiSpeak
How are you using the BPD?  Share your stories with us at BPD@ee.doe.gov. If you don't have an account, you can create one and start analyzing data in less than 30 seconds.