What is biomass? Where does biomass come from? How are biofuels made?  What is bioenergy?
Participate in the U.S. Department of Energy (DOE) BioenergizeME Infographic Challenge to explore these questions and learn about how bioenergy affects YOU!  In this challenge, high school-aged teams (grades 9–12) will use technology to research, interpret, apply, and then design an infographic that responds to one of four cross-curricular bioenergy topics.
Download the BioenergizeME Toolkit for a full list of the challenge details and resources. To view this year's deadlines, topic areas, and prompts, download the Annual Update.
Selected infographics are promoted nationally on the challenge website and via social media. One team of students will be selected to present their infographic at the Bioenergy Technologies Office's (BETO's) annual conference in Washington, D.C.
To make the challenge easy and effective, DOE and the Library of Congress have provided a resource guide with steps for doing research, along with valuable links and references to help students learn about their bioenergy topics. Rubrics and guides for creating infographics and designing social media campaigns are also provided. Students can participate in this interdisciplinary STEM-focused challenge through classroom learning or informal education programs.
Check out the interactive BioenergizeME Infographic Challenge Map to see submissions from student teams across the country from past competitions. Put your school on the BioenergizeME map by participating in the next BioenergizeME Infographic Challenge.
Submissions are due March 4, 2016 by 5:00 p.m. Central Time, and the Social Media Campaign period will take place from April 11–22, 2016. 
To ensure that teams have the flexibility to develop their ideas and conduct their own research, topic areas are provided. The topic areas help students explore the role of biomass in the context of an energy landscape that has changed many times throughout human history. Within each topic area are prompts that are foundational, broad, and open-ended to foster student-centered discovery.
Choose a prompt from one of the research topic areas below and create an educational infographic.
As you consider your research topic area and the prompts, remember that the strongest entries will show that you have a clear and focused understanding of a relevant issue within the topic area and creativity in how you respond. 
2016 Theme—"Exploring the Future American Energy Landscape"
Topic AREA 1 - Bioenergy History
How has the use of biomass in energy production changed over time? How have technological breakthroughs improved bioenergy efficiency? What technologies are expected to have an impact on bioenergy efficiency in the future?
Possible subject headings/key words: History of biomass; history of bioenergy; low-carbon future
​​Research and create a timeline of U.S. bioenergy policy/lawmaking. Include details on the purpose and goals of a bioenergy-related policy or law, such as the Energy Independence and Security Act of 2007, the National Bioeconomy Blueprint, or the renewable energy provisions of the 2014 U.S. Farm Bill. Describe how this policy may affect you in the future. 
Possible subject headings/key words: Purpose of the U.S. Energy Independence and Security Act of 2007; Renewable Fuel Standard; National Bioeconomy Blueprint; greenhouse gas reduction
Topic AREA 2 - Workforce and Education
What are some fields of study that could lead to a career in bioenergy? Be sure to consider both technical and nontechnical backgrounds.
Possible subject headings/key words: Bioenergy/biofuels careers; STEM education and bioenergy; non-traditional bioenergy careers; communications and bioenergy; policy analyst and bioenergy; other disciplines and bioenergy.
Research a bioenergy-related higher education program or job training institution in your state. Highlight how the skills or knowledge gained from this program/institution can apply to a career in the bioenergy industry.
Possible subject headings/key words: bioenergy research institutes; training a bioenergy workforce; bioenergy and land-grant universities.
Topic AREA 3 - Science and Technology
How do plants capture and store energy from the sun? Describe how this energy can be converted into sustainable transportation fuels. Highlight the strengths and challenges being addressed to make the conversion process feasible for widespread public adoption.
Possible subject headings/key words: Photosynthesis; Energy from biomass; Cellulosic ethanol; Pyrolysis oil, gasification; Algae biofuel
Explore a second-generation (advanced) technology for harvesting sustainable transportation fuels from biomass. Include a block or flow diagram of the process and a comparison to a fossil-based resource such as petroleum or coal. Include energy density in the comparison.
Possible subject headings/key words: advanced biofuel conversion; second-generation conversion
What are the common types of biomass being explored in the United States to produce biofuels? What characteristics do biomass producers and biorefineries look for when selecting the types of biomass to use as feedstocks for biofuels? 
Possible subject headings/key words: Bioenergy feedstock; turning waste to energy; future biomass feedstocks
Research one type of energy crop and describe its availability, along with the benefits and challenges that are being addressed, or that need to be addressed, to encourage its broad use as a bioenergy feedstock. How will these considerations change in the future? 
Possible subject headings/key words: Cellulosic energy crops such as switchgrass and miscanthus; plantation-grown woody energy crops such as southern pine, poplar, or willow; and aquaculture species such as algae and cyanobacteria. 
​Topic AREA 4 - Environmental Impacts
Compare and contrast the environmental impacts of bioenergy and fossil energy, such as greenhouse gas emissions, water usage, energy balance, soil productivity, biodiversity, etc.
Possible subject headings/key words: life-cycle analysis, bioenergy systems cradle to grave
Explore the role of our current transportation system as it relates to energy consumption, environmental conditions, and the national/global economy. Is it sustainable?
Possible subject headings/key words: oil consumption; transportation energy; climate effects transportation; sustainability transportation
How would you define sustainable transportation? How can sustainable bioenergy technologies help meet sustainable transportation goals?
Possible subject headings/key words: Sustainable transportation biofuels; environmental benefits bioenergy; environmental bioenergy benefits forestry; environmental benefits bioenergy agriculture; landscape design bioenergy ecosystem services 
How are researchers and scientists addressing concerns about the potential environmental impacts of bioenergy in the future? 
Possible subject headings/key words: getting biofuels right; bioenergy research centers, bioenergy sustainability
The Bioenergy Technologies Office collaborated with the Library of Congress to develop a collection of quality resources for the BioenergizeME Infographic Challenge. These resources were compiled to provide a solid foundation of credible information covering various aspects of bioenergy.
Library of Congress
The Library of Congress is the world's largest library by number of items catalogued and serves as the research library for the U.S. Congress. For the BioenergizeME Infographic Challenge, the Library of Congress put together the Research Strategy Guide and Resource Library for students to use as a starting point for their research. The Research Strategy Guide provides students with guidance on developing a successful research strategy. The Resource Library provides students with references and links to various sources such as books, fact sheets, and publications Both documents are currently available on the Library of Congress website and via the links below:
The Library of Congress is a valuable resource for researchers at any level, and the "Ask a Librarian" function is a great way to get research assistance from Library of Congress librarians. Check out the video interview of Library of Congress Research Specialist, Jennifer Harbster, to learn more about the capabilities of the Library of Congress and of your own public library!
Government
Government agencies such as the U.S. Department of Agriculture (USDA), Environmental Protection Agency (EPA), and Department of Energy (DOE) are on the leading edge of science and technology research and produce valuable publications, fact sheets, and reports that are available to the public for free. The U.S. Department of Energy's Bioenergy Technologies Office (BETO) compiled the following list of bioenergy-related resources from various government agencies to provide a foundation for students to begin their research:
National Laboratories
The U.S. Department of Energy provides funding to national laboratories across the United States that provide valuable bioenergy-related research:
Bioenergy Research Centers
The U.S. Department of Energy established three bioenergy research centers in 2007 to help to address the challenges of biofuel production:
The Bioenergy Technologies Office compiled the resources in the following sections to assist students with developing their infographics. The Infographic Guide at the link below was developed specifically for the BioenergizeME Infographic Challenge to provide tips and guidance for creating an infographic.
Examples
The infographics found below provide great examples of high-quality infographics that were produced for the U.S. Department of Energy and may provide useful examples for students in designing their own.
Image Resources
The following resources provide free image galleries that can be used to find bioenergy-related photos and graphics:
Pacific Northwest National Laboratory—PictureThis
National Renewable Energy Laboratory—Image Gallery
United States Department of Agriculture
National promotion of selected infographics on BETO's BioenergizeME website. 
Recognition of the top finalists with official letters of recognition and certificates.
Recognition of the first-place team at BETO's annual conference held in Washington, D.C.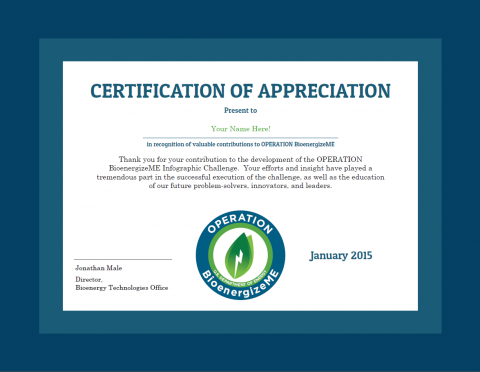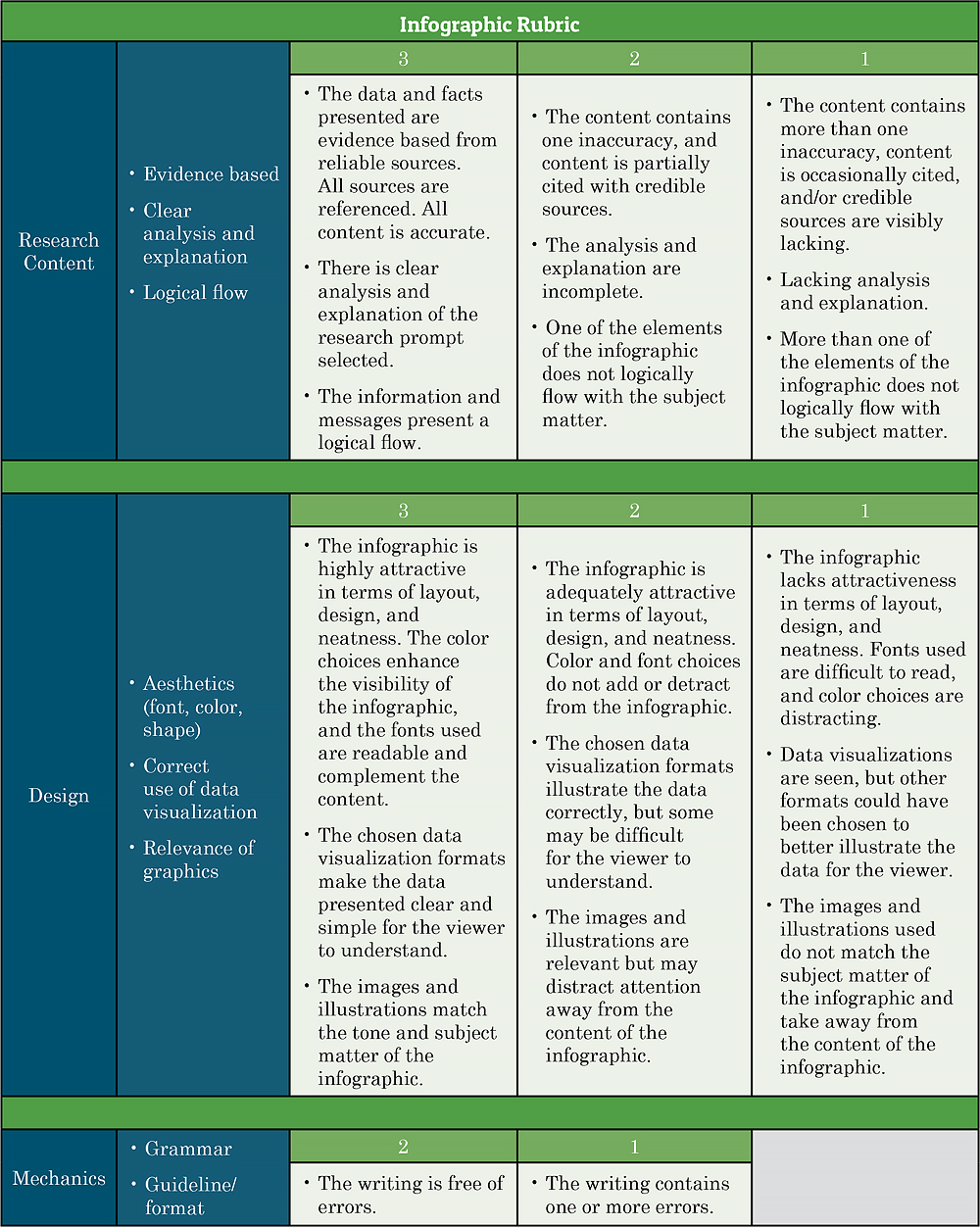 Congratulations to the winners of the Spring 2016 BioenergizeME Infographic Challenge! The winning infographic, "Cellulosic Ethanol: The Fuel of the Future," was created by a team of students from Smithtown High School East in St. James, New York. The student team received the Director's Prize for Excellence in Content, Design, and Social Media Promotion and is invited to present the infographic at BETO's Bioenergy 2016 in Washington, D.C., in July 2016. 
To view the full list of runner ups and winners from previous years, visit the BioenergizeME Infographic Challenge Winners page. 
We encourage you to register early to help us plan for a timely review. Registered team advisors will receive updates about the challenge and resources, as well as information about additional opportunities such as the BioenergizeME Office Hours webinar series.
2016 REGISTRATION CLOSED
Infographics must be submitted by the team advisor. Please keep in mind that all infographics should be reviewed by the team advisor prior to submission. Only infographics receiving a "three" in the Research Content section of the rubric should be submitted. 
Team advisors must complete the submission form before the deadline.
To ask questions, or receive more information, email BioenergizeME@ee.doe.gov.
Sign up for periodic news updates about our education efforts.