The U.S. Department of Energy's BioenergizeME Infographic Challenge engages 9th–12th-grade high school teams to research one of five cross-curricular bioenergy topics and design infographics to share what they have learned through various social media channels. The purpose of the Challenge is to enhance energy literacy and foundational knowledge about bioenergy, as well as help students understand how they can play an important role in shaping America's energy future. The unique design component of the Challenge also encourages creativity and engagement through arts-based learning of Science Technology Engineering and Math (STEM). Students can participate in this interdisciplinary STEM-focused and Next Generation Science Standards-aligned Challenge through classroom learning or informal education programs. Students with a qualifying infographic will participate in a national social media campaign. The winning team is selected based on the overall quality of their infographic's design and content as well as the number of unique page views. The winning team is invited to travel to Washington, D.C., to participate in the Bioenergy Technologies Office's (BETO's) annual conference.
Check out the interactive BioenergizeME Infographic Challenge Map to see submissions from teams across the country from prior years. Put your school on the BioenergizeME map by participating in the next BioenergizeME Infographic Challenge.
Registration will kick off September 30, 2016 and closes February 3, 2017, by 5:00 p.m. Central Time. Submissions are due March 3, 2017, by 5:00 p.m. Central Time, and the Social Media Campaign period will take place from April 10–21, 2017.
Challenge Details
The BioenergizeME Infographic Challenge is designed for teams of two to six high school students (grades 9–12). Team advisors can adjust team size as needed for their teaching situation, but only six students and two advisors/chaperones from the winning infographic team will be hosted at BETO's annual bioenergy conference in Washington, D.C. Educators are encouraged to integrate the Challenge into their curriculums but should also keep in mind the submission deadlines and the social media campaign schedule.
To help guide advisors and students through the process of researching a topic, creating an infographic, and participating in the social media campaign, the BioenergizeME Team has developed the following resources:
All advisors are encouraged to begin by reading through the BioenergizeME Toolkit, which contains a full list of Challenge rules and guidelines, as well as a good overview of bioenergy and resources to help students navigate the Challenge successfully. Please pay special attention to rules governing research resources and citations.
Within the BioenergizeME Toolkit, advisors will find the Infographic Guide, which provides tips and guidance for creating an infographic, the Challenge Rubric to assist advisors in evaluating infographics prior to submission, and the Social Media Guide to assist students to plan and execute their social media campaigns.
The research topic areas can be found in a separate document called the Annual Update.
For anything not covered in the Toolkit, check out Frequently Asked Questions.
Research Topic Areas and Research Resources
Research Topics: Each infographic should respond to one of the five research topics provided in the Annual Update. Within each topic area are prompts and questions that are foundational, broad, and open-ended to foster student-centered discovery. The prompts also direct student teams to design a linear visual narrative. A thorough and well-developed submission typically addresses most of the questions within a given topic area.
Research Resources Guide: Once teams have chosen a topic and are ready to begin the research journey, they should view the BioenergizeME Research Resource Guide. The guide contains a comprehensive list of reliable bioenergy resources organized by topic area. These resources include valuable publications, fact sheets, and reports from a variety of organizations that are on the leading edge of bioenergy science and technology research (e.g. government agencies, national laboratories, research centers, and major academic institutions). The BioenergizeME Team recommends that students use the resources provided in this guide to generate the content for their infographics. However, teams are welcome to use sources not included in the resource guide, as long as they are from credible science-based and peer-reviewed sources (e.g., local, state, and federal government agencies, national laboratories, research centers, academic institutions, science journals). Please also check out the Library of Congress Research Strategy Guide, which is designed to provide quick tips and guidance on developing a successful research strategy.
Webinars: The BioenergizeME Team has developed a series of webinars called BioenergizeME Office Hours to assist teams in their understanding of the basics of bioenergy and Challenge guidelines. There is also an archived webinar for advisors with suggestions of how to integrate bioenergy into the classroom. Upcoming Office Hours webinars will be held on Nov. 17, 2016, at 4:00 p.m. Eastern Time (overview of the 2017 Challenge) and Feb. 9, 2017, at 4:00 p.m. Eastern Time (strategies and creative approaches to designing infographics).
Challenge Rubric and Scoring: Before teams get ready to submit, the team advisors should review and score each infographic using the Challenge Rubric. To ensure accuracy of information and help reduce distribution of misinformation, team advisors should only submit infographics that have received at least three points in the research content category. As part of the scoring, advisors should verify that student teams have included the appropriate source citations as footnotes on their infographics.
Timeline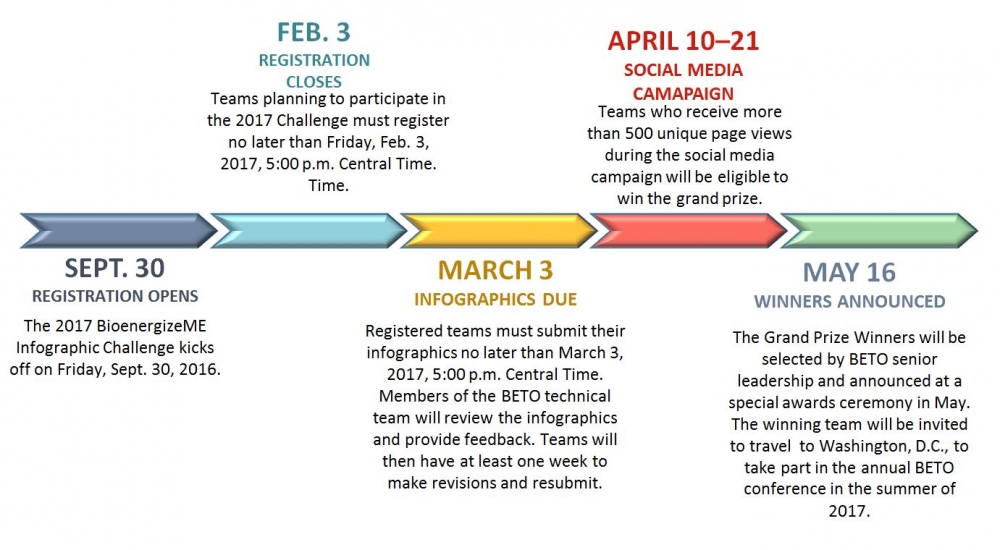 Registration
Team advisors must register using the online form to be eligible to participate in the BioenergizeME Infographic Challenge. Registration for the 2017 Challenge will kick off Friday, Sept. 30, 2016, and will remain open until Friday, Feb. 3, 2017, 5:00 p.m. Central Time. We encourage you to register early. Registered team advisors will receive updates about the Challenge and resources, as well as information about additional opportunities like the BioenergizeME Office Hours webinar series.
Submission
Advisors of registered teams must submit their teams' infographics to BETO no later than March 3, 2017, 5:00 p.m. Central Time using the submission form. Infographics must be submitted by the team advisor and should be reviewed by the team advisor prior to submission. Team advisors should only submit infographics that receives a "three" in the Research Content section of the rubric.
2016 BioenergizeME Infographic Challenge Winners
Congratulations to the winners of the Spring 2016 BioenergizeME Infographic Challenge! The winning infographic, "Cellulosic Ethanol: The Fuel of the Future," was created by a team of students from Smithtown High School East in St. James, New York. The student team received the Director's Prize for Excellence in Content, Design, and Social Media Promotion and is invited to present the infographic at BETO's Bioenergy 2016 in Washington, D.C., in July 2016. 
To view the full list of runner ups and winners from previous years, visit the BioenergizeME Infographic Challenge Winners page. 
Contact Us
To ask questions, or receive more information, email BioenergizeME@ee.doe.gov.
Sign up for periodic news updates about our education efforts.