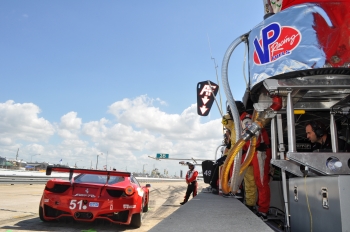 A racecar heads into the pits for refueling during the 12 Hours of Sebring in Florida on Saturday. Integrated biorefinery INEOS Bio now supplies cellulosic ethanol to VP Racing Fuels, which fuels the action at TUDOR United SportsCar Championship series races. | Photo by Natalie Committee, Energy Department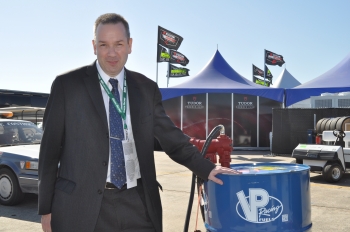 Bioenergy Technologies Office Director Jonathan Male attended a press event at the 12 Hours of Sebring on Friday announcing INEOS Bio is supplying cellulosic ethanol to VP Racing Fuels for TUDOR Championship races. INEOS Bio produced commercial-scale cellulosic ethanol for the first time in our nation's history last year. | Photo by Natalie Committee, Energy Department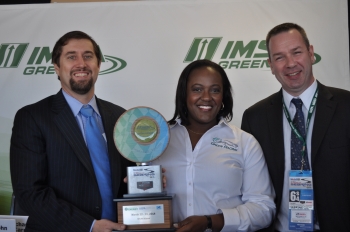 Office of Energy Efficiency and Renewable Energy Principal Deputy Assistant Secretary Michael Carr (from left), Environmental Protection Agency Region IV Administrator Heather McTeer Toney, and Bioenergy Technologies Office Director Jonathan Male pose with the Green Racing Challenge award. | Photo by Natalie Committee, Energy Department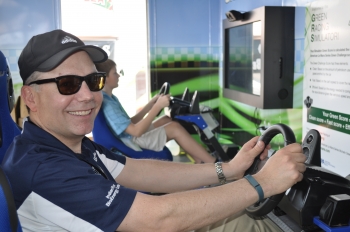 Dan Cummings, President of INEOS New Planet BioEnergy, drives the Green Racing simulator on Friday. | Photo by Natalie Committee, Energy Department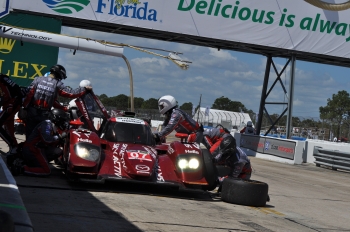 The Mazda SKYACTIV car heads for a pit stop at 12 Hours of Sebring on Saturday. Properties of the Dynamic Fuel diesel help make the engines used in Mazda Prototype class cars competitive with the other vehicles in their class| Photo by Natalie Committee, Energy Department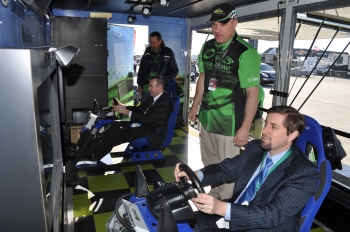 Bioenergy Technologies Office Director Jonathan Male (left) and Office of Energy Efficiency and Renewable Energy Principal Deputy Assistant Secretary Michael Carr drive the Green Racing simulator on Friday. | Photo by Natalie Committee, Energy Department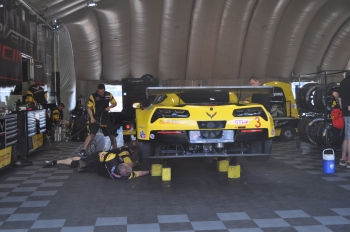 A crew works on the Chevrolet Corvette at the 12 Hours of Sebring in Florida. The GT Le Mans class car runs on E85 ethanol. | Photo by Natalie Committee, Energy Department
This past weekend, the TUDOR United SportsCar Championship series pumped up its sustainability efforts at the 12 Hours of Sebring race in Florida with the help of Energy Department-funded renewable fuels. The Office of Energy Efficiency and Renewable Energy's Principal Deputy Assistant Secretary Mike Carr and I were fortunate enough to represent the Energy Department at events surrounding the race, and speak with the media and stakeholders about the Department's support for the Green Racing initiative. On Friday, NASCAR's International Motor Sports Association (IMSA), a Green Racing partner, announced Florida-based integrated biorefinery INEOS Bio as the supplier of clean, renewable cellulosic ethanol to racecars participating in the TUDOR Championship, which IMSA sanctions.  
Last year, INEOS Bio began producing commercial-scale cellulosic ethanol for the first time in our nation's history, successfully converting wood scraps, palm fronds and other vegetative waste into transportation fuels.  The cellulosic ethanol produced at the facility is now being used by VP Racing Fuels to fuel the action at all of this year's TUDOR Championship races. The milestone highlighted a successful project with deep Energy Department roots. The project's gasification-fermentation technology –  which produces fuel, heat, and power – started as a University of Arkansas research project, supported by a $5 million Energy Department investment over fifteen years. The Department's early support helped this technology obtain a number of patents, with the core intellectual property purchased by INEOS Bio in 2008. In 2009, the INEOS Bio-New Planet Energy joint venture was awarded a $50 million Energy Department grant to design, construct, commission, and operate the Indian River BioEnergy Center in Vero Beach, Florida. With a $130 million total project cost, the Center created more than 400 direct construction, engineering and manufacturing jobs during its development and has 65 current full-time employees.
Green Racing, like the12 Hours of Sebring race I attended this weekend,  is one of several ways the Energy Department is making professional motor sports more energy efficient and sustainable. In February, NASCAR and Sprint joined the growing list of employers participating in the Energy Department's EV Everywhere Workplace Charging Challenge. Last year, NASCAR and the Energy Department forged a partnership to incorporate transformative clean energy technologies into NASCAR operations. All of these efforts are increasing the use of alternative fuels and advanced vehicle technologies on America's racetracks and highways.