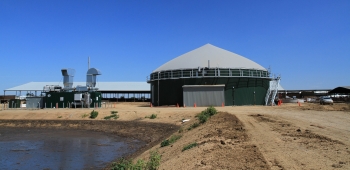 Dairy digester and engine genset at New Hope dairy farm. | Photo courtesy of Sacramento Municipal Utility District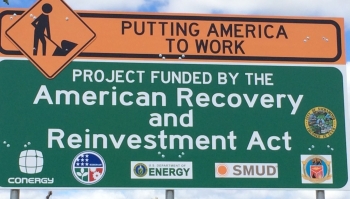 The Energy Department partnered with Conergy and SMUD to fund the renewable energy projects. | Photo courtesy of Sacramento Municipal Utility District
EERE Investment
More than $5 million
Location
Sacramento, California
Partners
Sacramento Municipal Utility District
California Energy Commission
The Sacramento Municipal Utility District (SMUD) in Sacramento, California, is looking to local renewable resources to help meet its aggressive goal of supplying 37% of its power from renewables by 2020. To help achieve this goal, the U.S. Department of Energy (DOE) provided more than $5 million in funding for several SMUD Community Renewable Energy Deployment (CommRE) projects. This funding, combined with $500,000 from the California Energy Commission (CEC), helped build a solar power system, biogas generation from waste systems, and anaerobic digestion systems at dairy facilities, all for electricity generation and delivery to SMUD's distribution system. In November 2014, the SMUD CommRE projects won a State Leadership in Clean Energy Award.
Simply Solar
SMUD teamed up with Conergy to develop an approximately 1.5 megawatt community-scale solar project called Simply Solar. Conergy was awarded approximately $1.6 million in grant funding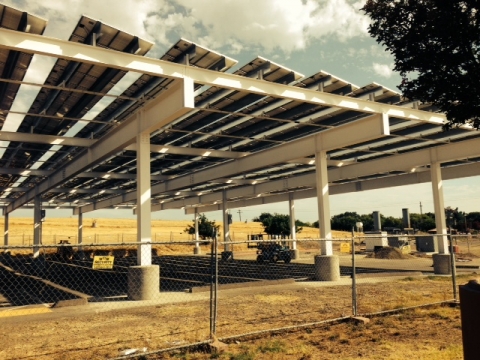 from DOE, with an additional $125,000 available in matching funds from the CEC for the Simply Solar project. Conergy designed and constructed a parking lot shade structure, a set of shade structures in a dog park, and a large ground-mounted photovoltaic system on a previously paved area in SMUD's service territory. The Simply Solar project was completed in fall 2014.
Regional County Sanitation District Wastewater Treatment Facility
A new process at the Sacramento Regional County Sanitation District (SRCSD) wastewater treatment facility co-digests fats, oils, and grease (FOG), and food processing waste (FPW), such as off-specification soda pop, with sewage to generate biogas. During 2009, SRCSD and SMUD conducted a biogas enhancement pilot test to evaluate the feasibility of using FOG and FPW, which confirmed that FOG and other FPW used in the anaerobic digesters improved the overall biogas production and would provide more electricity from the green energy source. Construction was completed in 2012, and the facility is currently operational. This project is projected to provide enough renewable energy to power between 1,000 and 3,000 homes, as well as eliminating greenhouse gas emissions and saving local businesses money.
Dairy Anaerobic Digestion Systems
Ana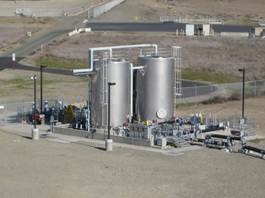 erobic digestion systems have been installed at the New Hope and Van Warmerdam dairy facilities as part of this SMUD CommRE project. The systems generate enough electricity to power roughly 500 single-family homes in Sacramento. Construction started on both projects in December 2012, and they both began commercial operations in mid-2013.
Digester benefits:
Generates renewable electricity that is sold to SMUD, displacing the use of fossil fuels;
Contributes to SMUD's and the State's RPS programs;
Captures and destroys methane, a greenhouse gas 21 times more potent than carbon dioxide in causing climate change;
Stabilizes manure wastes, reducing odor and flies; creates a steady revenue stream for the dairy farmers through lease agreements with the project developer;
Provides the farmer with facilities and equipment that improve dairy operations;
Brings local economic benefits though the creation of jobs and increased tax revenue for the community.
Environmental and Economic Benefits
In addition to reducing greenhouse gas emissions, the projects also demonstrate that solar projects and anaerobic digesters can be readily implemented through collaborative partnerships. Other communities are able to learn how to assess, overcome barriers, utilize, and benefit from renewable resources for electricity generation in their region.
More Information