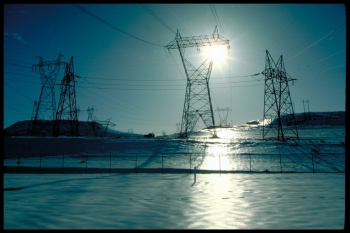 Electrical transmission lines cross a snow-covered field in Dalles Dam, Oregon. | Energy Department photo.
It's #GridWeek on Energy.gov. We're highlighting our efforts to maintain a reliable, resilient and secure electric grid across the country, and what that means for you. We'll be hosting a Twitter chat on How the Grid Works on Thursday November 20 at 2 PM EDT. Send us your questions on Twitter, Facebook and Google+ using #GridWeek.
This article is part of the Energy.gov series highlighting the "Top Things You Didn't Know About…" Be sure to check back for more entries soon.
Storified by Energy Department ·
Fri, Sep 20 2013 14:22:18
The number of outages caused by severe weather is expected to rise as climate change increases the frequency and intensity of extreme weather events. Preparing for the challenges posed by climate change requires investment in 21st century technology that will increase the resiliency and reliability of the grid.
Investments in #cyber security tech innovation keep the power flowing. What we're doing to help: http://go.usa.gov/DUJh