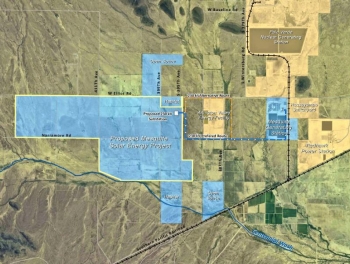 Mesquite solar energy project area map. | Photo Courtesy of Sempra Generation
Today, Secretary Chu announced a conditional commitment for a loan guarantee of approximately of $359 million for a photovoltaic solar project in Maricopa County, Arizona. This continues a week of solar loan guarantees from the Energy Department.
The project's sponsor, Sempra Generation, estimates the Mesquite Solar project will create up to 300 construction jobs and seven to 10 full-time operating jobs.  
Mesquite Solar 1 will be one of the first large-scale photovoltaic solar power plants in the country to use U.S.-manufactured liquid cooled and transformerless inverters, an innovative technology that decreases operating costs, improves reliability, and ultimately creates more energy output.
We anticipate the project will generate nearly 350,000 megawatt hours of electricity in the first full year of production, or enough to power 31,000 homes.  
And this new clean energy source will help Arizona avoid more than 200,000 metric tons of carbon dioxide emissions annually, which is the equivalent to the carbon dioxide emissions of 38,000 vehicles.