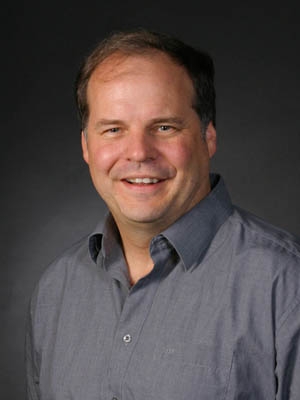 Andy Kruse, senior vice president of Southwest Windpower.
Q&A with Andy Kruse of Southwest Windpower
In the 1980s, Andy Kruse was living off the grid, generating electricity from a small solar energy system, on a cattle ranch outside Flagstaff, Ariz. In a quest for more energy, he found a business partner, who was building small wind generators out of car alternators. Together, they launched a turbine company in 1987, funded by friends, families and credit cards. Today, Kruse's Flagstaff-based company, Southwest Windpower, has 90 employees and sells small wind turbine systems to everyone from homeowners to NASA.
Energy Empowers caught up with Kruse, the company's senior vice president of business development, at the Windpower 2010 conference in Dallas to learn about mass production for small wind turbines, who is buying these systems and what lies ahead for the small wind industry.
Q: In 2006, your business took off when it started using mass production techniques to manufacture the Skystream 3.7, a small wind turbine system for residences and small businesses. How did this come about?
A: We did a joint venture with the Department of Energy in the early 2000s to co-develop a small residential scale wind generator.
The idea was: how do you drive the cost of energy down on small residential wind turbines? Historically, it has been piecemeal systems.
A lot of the work was done at the National Renewable Energy Laboratory in Golden, Colo. We went through the design process and proved out the theory: that we could manufacture a small wind generator using high volume manufacturing techniques capable of producing energy competitively with the retail rates of some utilities.
From the beginning, we have produced more than 170,000 wind generators. We launched Skystream in 2007and have installed about 7,000 units  in the United States and about 100 in Europe and another 100 in Asia.
It costs a homeowner about $15,000 to $16,000 to install one before any federal or state incentives.
Q: What's the supply chain impact?
A: Almost all the parts are sourced in the United States: the blades are made in Wisconsin; the castings are made in Los Angeles; the inverters are made in Denver and Phoenix.
Our products are assembled in Flagstaff and then shipped around the world.
Between that and the dealership network, we are probably responsible for several hundred jobs just in this little business. We have 400 dealers across the country who we train in Flagstaff, and each of these dealers has two to four employees.
Q: You sell 2.4 kilowatt machines all the way down to 200-watt systems. Who buys these products?
A: It's all over the board. On our small machines, we like to claim we have the largest offshore wind farm in the Western hemisphere because thousands of offshore platforms in the Gulf of Mexico have our little 200-watt machines.
Many governmental agencies use them. NASA uses them to power monitoring stations for measuring the movement of the ice in Greenland. They are also along the North and South Korea border.
They are used on sailboats; they are used in schools to educate children on the basics of electricity. They are used on cabins and on modern houses.
At a Glance
About 20 MW of energy from 10,000 small wind turbines were added to the grid in 2009, a 15 percent increase over 2008. 95% of all small wind systems sold in the U.S. last year were made by U.S. manufacturers. 2/3 of all small wind systems sold in the world last year were made by U.S. manufacturers. Approximately 250 companies worldwide manufacture or plan to manufacture small wind turbines, 95 of which—more than one-third—are based in the U.S. An estimated 100,000 units have been sold in the U.S. since 1980 Source: 2010 AWEA Small Wind Turbine Global Market Study
Q: Why are people buying wind turbines for their homes today?
A: There is a combination of things that drive consumers to want to buy small wind systems. Generally, you have to have wind, of course. And there may be emotional need for something: it might be climate change or energy security. Almost everyone is simply looking for a way to reduce their monthly energy bill.
Texas doesn't have any other incentives outside the federal 30 percent tax credit, and yet it's our number one market. Texans seem to love the traditional windmill and our product offers them the modern version of the windmill.
The other areas are the Northeast -- from Maine to Pennsylvania. We have hundreds and hundreds of machines in those areas.
Q: How much is it reducing utility bills?
A: It can reduce electric bills by 15 to 20 percent. Two [turbines] may be 45 to 70 percent. It depends on what the wind speed is in the area and how much energy the home consumes.
Q: What is going to happen to the small wind business over the next 20 years?
A: I am convinced that how Americans consume energy in the home is evolving and there is a dividing line growing between distributed and non-distributed technologies. 
President Obama, for example, has pushed the importance of efficiency in homes. We've got a lot of proposed and existing pieces of legislation—Cash for Caulkers and programs that are designed to make your home more efficient. Recovery Act funds have been heavily targeted towards efficiency in the home, and at the same time, there is a push on distributed energy for homes from a solar array or wind turbine.
That whole movement is growing like I have never seen it before. And, at the same time, we are seeing a lot of more demand for large scale utility systems.
Will I see wind turbines in everyone's backyard? Probably not. There are about 125 million homes in the U.S. We think there are about 13 million homes with the right amount of wind and land that makes it appropriate for a wind turbine. But, that is enough to create a billion dollar industry while at the same time creating thousands of new jobs in rural America.
There is significant opportunity there.