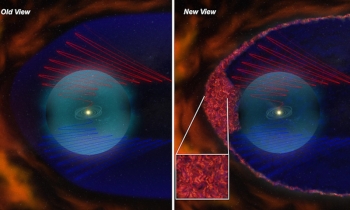 Old and new views of the heliosheath. Red and blue spirals are the gracefully curving magnetic field lines of orthodox models. New data from Voyager add a magnetic froth (inset) to the mix. | Courtesy of NASA
The end of our solar system is bubbly.
As NASA's Voyager probes approach this end, they have found a surprising thing -- a turbulent froth of magnetic bubbles, each about 100 million miles wide (a distance approximately 4000 times the circumference of the Earth).
Using a Cray XT4 supercomputer at the Lawrence Berkeley National Laboratory's National Energy Research Scientific Computing Center (NERSC), scientists proposed that these bubbles are created when magnetic field lines reorganize, a process known as magnetic reconnection. 
Astronomer Merav Opher of Boston University noted, "The sun's magnetic field extends all the way to the edge of the solar system. Because the sun spins, its magnetic field becomes twisted and wrinkled, a bit like a ballerina's skirt. Far, far away from the sun, where the Voyages are now, the folds of the skirt bunch up.James Drake, a University of Maryland physicist, and his team proposed that magnetic reconnection was the source of not only the unusual data coming from the Voyager probes, but also of the very strong cosmic rays that reach Earth.
While the idea was first discounted after the first Voyager didn't find the expected high-energy particles, a combination of computer modeling and recent Voyager data has changed opinions.Drake explained, "The idea is that each magnetic bubble acts like a bucket holding these energetic particles. With observation, and then a theoretical idea backed by simulations carried out at NERSC, and then reconfirmation by observation, I think we've really convinced people that we may have been right about this." 
Check out more on this surprising discovery here and even more from NASA here.