Wednesday's livestreamed discussion on the future of the U.S. wind industry yielded a lively discussion from two leaders in the renewable energy sector: Energy Secretary Steven Chu and U.S. Senator Mark Udall (D-CO).
Storified by Energy Department ·
Thu, Dec 20 2012 13:17:15
The two talked policy, technology and jobs -- and opened the floor up for questions from both in-person and online audiences. You can view the event below.
Viewers tuned in to the livestream at
energy.gov/live
, and asked questions on
Facebook
and
Google Plus
,
Twitter
and via email. The conversation was moderated by the Energy Department's Director of Public Engagement Heidi VanGenderen, and featured a lively discussion on the future of wind -- more specifically, the future of the Production Tax Credit.
Got Qs on #wind energy? Ask using #AskEnergy & tune in Wed @ 4pm ET w/ Secretary Chu & @MarkUdall for the answers. http://1.usa.gov/TWsG7U
The Production Tax Credit (PTC) is set to expire at the end of the year, and has served as a key driver of economic growth and job creation within the U.S. wind industry. This is no small initiative: according to the American Wind Energy Association, the PTC helps incentivize more than $15 billion in private investment for U.S. wind farms every year.
Sen @MarkUdall on wind: "We need to send a strong message to the world...that we're open for business. Need to extend PTC." #AskEnergy
2012 was the American wind industry's most impressive year to date -- making continued support for the PTC more important than ever. Both Senator Udall and Secretary Chu agreed that a renewed PTC would ensure continued American leadership in the sector and job security for wind manufacturing supply chain workers.
Senator @MarkUdall on wind: "CO's wind industry is alive & well... & when America manufactures, America is going to be strong." #AskEnergy
In addition to the importance of the PTC, Secretary Chu and Senator Udall spoke about everything from technological developments in the sector to ways to encourage minority involvement in science and energy careers.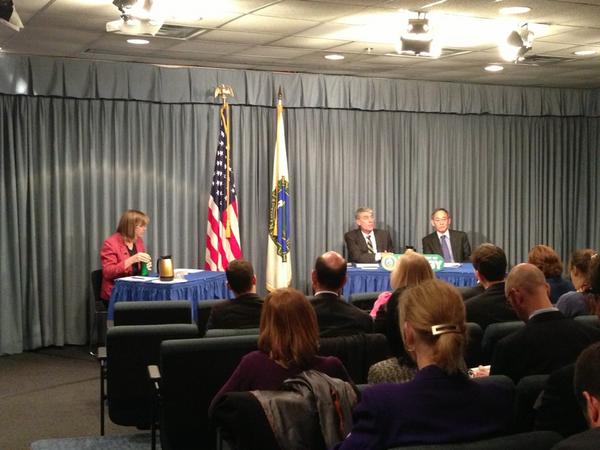 Senator Udall highlighted the successes of Colorado workers in the renewable energy sector, and voiced his support for the industry.
"In Pueblo, I see the pride in the people making wind turbines. They are making the 21st century energy marvels." @markudall #AskEnergy
The renewable energy industry across the country has created jobs for thousands of workers from across the spectrum -- from scientists to supply chain manufacturers.
Senator @MarkUdall on renewable energy: "This is happening. This is our future." Love it! #AskEnergy
The Energy Department is committed to an all-of-the-above approach to U.S. energy, including strong policies that keep the clean energy workforce strong for American workers, businesses and communities across the country.
RT if you agree we must extend #PTC & create more #WindJobsNow in #CO & support #MadeInAmerica energy.
And with each additional 1 GW (1,000 MW) of U.S. wind capacity installed offsetting roughly 2 million metric tons of carbon dioxide per year, continued support for wind energy is a necessary step in transitioning to a clean energy future.
RT @ENERGY: Chu on wind: "We are coming back...& this means jobs in America, & clean energy that can be competitive." #AskEnergy
Stay tuned to energy.gov for more #AskEnergy discussions in the coming weeks.