Frances Beinecke - President of Natural Resources Defense Council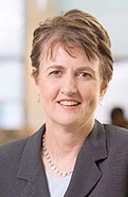 Frances Beinecke is the president of NRDC. Under Ms. Beinecke's leadership, the organization has launched a new strategic campaign that sharply focuses NRDC's efforts on establishing a clean energy future that curbs climate change, reviving the world's oceans, defending endangered wildlife and wild places, protecting our health by preventing pollution, fostering sustainable communities, and ensuring safe and sufficient water. Ms. Beinecke has worked with NRDC for more than 30 years. Prior to becoming the president in 2006, Ms. Beinecke served as the organization's executive director for eight years. Under her years of leadership, NRDC's membership has doubled and the staff has grown to more than 400. She also worked as a member of NRDC's Water & Coastal Program, fighting to protect marine ecosystems from offshore oil and gas development and advocating for sound coastal land use.
In addition to her work at NRDC, Frances was appointed by President Obama to the National Commission on the BP Deepwater Horizon Oil Spill and Offshore Drilling. She has played a leadership role in several other environmental organizations. She currently serves on the boards of the World Resources Institute, the Energy Future Coalition, and Conservation International's Center for Environmental Leadership in Business. She has been a member of the boards of the Wilderness Society, the China-U.S. Center for Sustainable Development, and the New York League of Conservation Voters.
Ms. Beinecke received a bachelor's degree from Yale College and a master's degree from the Yale School of Forestry and Environmental Studies. She now co-chairs the Leadership Council of the Yale School of Forestry, is a member of the Yale School of Management's Advisory Board and a former member of the Yale Corporation.
Ms. Beinecke has received the Rachel Carson Award from the National Audubon Society, the Distinguished Alumni Award from Yale School of Forestry & Environmental Studies, the Annual Conservation Award from the Adirondack Council, and the Robert Marshall Award from the Wilderness Society.