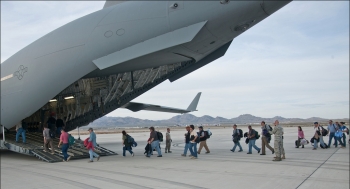 Highly trained nuclear emergency response personnel and more than 17,000 pounds of equipment were sent to Japan as part of the Department of Energy and National Nuclear Security Administration's effort to assist Japanese personnel with nuclear issues related to the Fukushima nuclear power plant. Above, scientists, technicians and engineers from the National Nuclear Security Administration's Nevada Site Office board an Air Force C-17. | Photo courtesy of NNSA.
As long as nuclear weapons exist, the United States will maintain a safe, secure and effective nuclear deterrent to keep America safe. In support of this presidential mandate, the Energy Department -- specifically the National Nuclear Security Administration (NNSA) -- is responsible for ensuring the integrity and safety of the nation's nuclear weapons, advancing nuclear nonproliferation and promoting international nuclear safety.
We also work with industry partners to model risks to privately owned U.S. nuclear facilities from cyber attacks and support climate change adaptation efforts to prevent overheating of nuclear reactors, an increasing threat as global temperatures rise and droughts become more common.