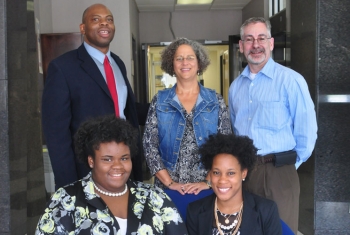 (Front, left to right) Lacey Wicks, junior at Jackson State University in Mississippi; JeTara Brown, senior at Tennessee State University (Back left to right) Daryl Green, HBCU-MSI coordinator for OREM; Susan Cange, acting OREM manager; Jay Mullis, acting OREM deputy manager
For the third consecutive year, the Oak Ridge Office of Environmental Management has partnered with the National Nuclear Security Administration to participate in a 10-week workforce development program for college interns.
The program is designed to engage students from Historically Black Colleges and Universities to collaborate on research projects throughout the Department of Energy's national complex to support mission activities. This year the local Environmental Management office hosted two undergraduate interns—Lacey Wicks, a junior from Jackson State University (Mississippi) and JeTara Brown, a senior from Tennessee State University (Tennessee). 
Lacey and JeTara were great additions to the environmental cleanup program during their 10-week stay. They provided useful assistance to ongoing OREM's projects involving efforts to monitor groundwater and analyze remediation data and computer database systems. In turn, they received valuable work experience and exposure to numerous disciplines.