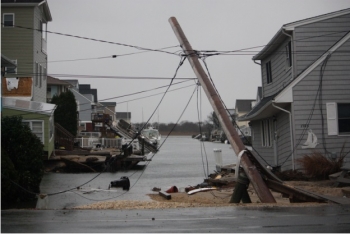 Damaged power lines in New Jersey after Hurricane Sandy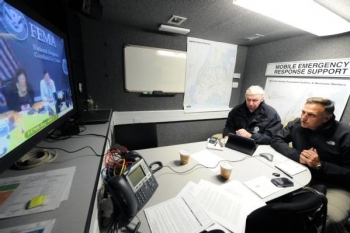 Deputy Assistant Secretary for Infrastructure Security & Energy Restoration Bill Bryan speaks with FEMA in the wake of Hurricane Sandy
Today the Department of Energy (DOE) is participating in America's PrepareAthon! to promote nationwide, community-based actions that increase emergency preparedness and resilience. We encourage your participation because effective response to any emergency takes a community effort from the ground up. To help you and your neighbors prepare yourselves we have developed guidelines and information resources.
As a part of the National Response Framework (NRF), the Federal government established Emergency Support Functions that help Federal Emergency Management Agency prepare for and respond to emergencies that affect the Nation. DOE has been responding in the field to national energy emergencies for twenty five years as the lead agency for Emergency Support Function #12 (ESF #12).
DOE has responded to many disasters and knows the importance of reaching out to local communities in order to coordinate assistance. ESF #12 is comprised of a variety of Federal support agencies that work with thousands of energy sector stakeholders to provide technical expertise and help facilitate the restoration of energy systems as quickly, safely, and efficiently after an emergency.
We prepare with our partners every chance we get and would like to ask for your support as well. After a disaster strikes, ESF #12 and the whole energy community must focus on lifesaving activities by ensuring critical infrastructure such as power plants, medical facilities, and response facilities have energy supplies needed to operate. You can help support lifesaving efforts by being prepared to withstand the first 3 days of an event. DOE offers information resources and guidance that can help you, when possible, recover power, fuel, and natural gas more quickly, and protect your homes, businesses, and communities from future energy disasters.
Because every emergency is different, it is important for your safety that you follow the directives of your state and local emergency management authorities and local utilities. The information provided on DOE's website is intended for general informational purposes only and is not an endorsement of any particular material or service. Before engaging in any activities that could impact utility services such as electricity or natural gas, contact your local utility to ensure that the activities are done safely.
For additional emergency-planning resources, visit the Federal Emergency Management Agency's website, www.ready.gov or www.listo.gov to learn more about how to be better prepared and how to protect your family during emergencies. State and local emergency management authorities and local utilities may also provide helpful guidance.
To register for America's PrepareAthon! visit the website: http://www.community.fema.gov/connect.ti/AmericasPrepareathon/register