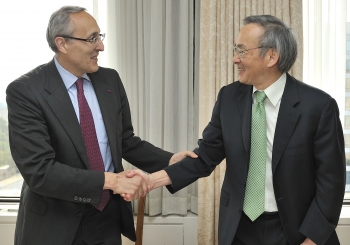 Washington, D.C. – On June 19, 2012, U.S. Energy Secretary Steven Chu and Dr. Bernard Bigot, Chairman of France's Commission on Atomic Energy and Alternative Energies (CEA), signed an agreement to help facilitate research and development (R&D) cooperation. The Agreement on Cooperation in Low-Carbon Energy Technologies will focus on a spectrum of advanced technologies in the fields of civil-nuclear energy, basic science, environmental management, renewable energy and energy management systems.
"This agreement comes at a key time for the United States, France and the world," said Secretary Chu. "It reflects our shared commitment to working together on civil nuclear and renewable energy technologies as key drivers in the global clean energy economy."
This agreement builds on a decade of cooperation between the two countries under the DOE-CEA Agreement for Cooperation in Advanced Nuclear Reactor Science and Technology on both the nuclear fuel cycle and advanced reactor research. In December 2009, CEA officially changed its name to include "Alternative Energies" to better reflect its broader research efforts in recent years in the low-carbon energy fields of nuclear energy, solar energy, hydrogen production, fuel cells, electricity storage, transportation and biofuels. The new agreement recognizes CEA's broadened focus and additional opportunities for the U.S. and France to work together on energy efficiency and cost-competitiveness across the energy mix, benefiting both countries.