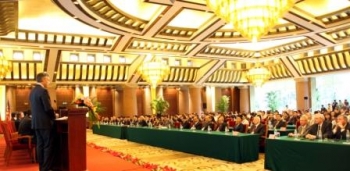 On May 26-27, 2010, U.S. Department of Energy Assistant Secretary David Sandalow co-hosted the inaugural U.S.-China Energy Efficiency Forum, the U.S.-China Renewable Energy Forum and the U.S.-China Advanced Biofuels Forum in Beijing with China's National Energy Administration Director General Zhang Guobao and National Development and Reform Commission Vice Chairman Zhang Xiaoqiang. These three fora were established under the clean energy cooperation measures announced by President Barack Obama and President Hu Jintao in November, 2009.  The Second U.S.-China Energy Efficiency Forum occurred on May 5-6, 2011 in Berkeley, California. 
These clean energy fora were supported by the U.S.-China Energy Cooperation Program, a newly-formed public-private partnership with leading U.S. clean energy companies. 
Several Memoranda of Understanding between industry, government and universities pledging enhanced cooperation in industrial energy efficiency, renewable energy technologies and sustainable aviation biofuels were signed at the clean energy fora. 
To view presentations and get more information on each forum, please click on the links below:
2010 US-China Energy Efficiency Forum
2010 US-China Renewable Energy Forum
2010 US-China Advanced Biofuels Forum