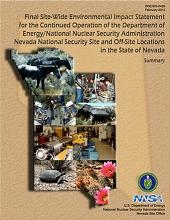 The U.S. Department of Energy, National Nuclear Security Administration (NNSA) has issued the Final Site-Wide Environmental Impact Statement (EIS) for the Nevada National Security Site (NNSS) and Off-Site Locations in Nevada. This document presents an analysis of the potential environmental impacts of continued management and operation of the NNSS (formerly known as the Nevada Test Site), the Tonopah Test Range, and two locations in Las Vegas, Nevada. The Site-Wide EIS analyzes reasonably foreseeable missions, programs, capabilities, and projects for a 10-year period.
The primary purpose of continuing operation of the NNSS is to provide support for the NNSA's nuclear weapons stockpile stewardship missions and other national security programs. Other missions include Environmental Management and Non-Defense Programs. The Site-Wide EIS explores potential environmental impacts of activities conducted under three alternatives -- No Action (maintaining the status quo), Expanded Operations, and Reduced Operations. The Final Site-Wide EIS identifies NNSA's preferred alternative, which is a "hybrid" alternative containing elements of each analyzed alternative, dependent on mission needs. For example, first responder training and environmental remediation would continue at current levels. National security initiatives such as sensor development and treaty verification technologies would increase. The majority of reductions would come from decreases in facility use and maintenance.
The U.S. Air Force, U.S. Bureau of Land Management, and Nye County, Nevada, are cooperating agencies in the preparation of this NNSS Site-Wide EIS. In addition, the Consolidated Group of Tribes and Organizations, which includes representatives from 17 tribes and organizations, participated in the preparation of this document; their assessments and recommendations appear in text boxes in this Summary and throughout this Site-Wide EIS.
>The Environmental Protection Agency published a notice of availability of the Final EIS in the Federal Register on February 22, 2013. DOE may issue a Record of Decision announcing the agency's decisions to move forward after the review period for the Final Site-Wide EIS ends on March 25, 2013.
The Final Site-Wide EIS is available for download here. You may also obtain other information and EIS-related documents on this site. For more information about this document, visit , or call 702-295-3521 to obtain a copy.