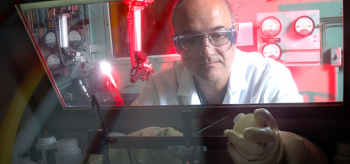 FUNDING OPPORTUNITIES AND SOLICITATIONS
Cost-Shared Development of Innovative Small Modular Reactor Designs
The Small Modular Reactor (SMR) Licensing Technical Support (LTS) program, sponsored by the U.S. Department of Energy (DOE) Office of Nuclear Energy (DOE-NE), through this Funding Opportunity Announcement (FOA) seeks to facilitate the development of innovative SMR designs that have the potential to address the nation's economic, environmental and energy security goals. Specifically, the Department is soliciting applications for SMR designs that offer unique and innovative solutions for achieving the objectives of enhanced safety, operations, and performance relative to currently certified designs. This FOA focuses on design development and certification only but also encourages the development of innovative business arrangements, such as consortia among power generation companies, plant owners/operators, reactor vendors, and nuclear suppliers and fabricators that have the potential to build and operate new SMR plants in the U.S. The closing date for applications is July 1, 2013.
Advanced Reactor Research and Development FOA
The U.S. Department of Energy (DOE) Office of Nuclear Energy (NE) sponsors a program of research, development, and demonstration related to advanced non-light water reactor concepts. A goal of the program is to facilitate greater engagement between DOE and industry. During FY12 DOE established a Technical Review Panel (TRP) process to identify R&D needs for viable advanced reactor concepts in order to inform DOE-NE R&D investment decisions. That process involved the use of a Request for Information (RFI) to solicit concept information from industry and engage technical experts to evaluate those concepts. Having completed this process, DOE desires to conduct a procurement action to partner with industry to conduct cost-shared R&D for selected technology needs identified by the TRP process. The intent of this funding opportunity announcement (FOA) is to solicit proposals to conduct such cost-shared R&D activities. The current closing date for applications is April 16, 2013.