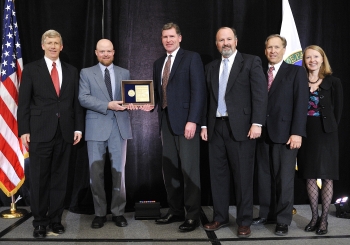 (from left to right) Daniel Poneman; Chad Henderson; Jeff Pitman; Marc Jones; Daniel Lehman; Ingrid Kolb
Presented to:
The Office of Science's Physical Sciences Facility (PSF) Project
For demonstrating exceptional results in completing this complex $224 million project.  The Pacific Northwest National Laboratory (PNNL) was facing the loss of core science, technical capabilities, and research facilities caused by the accelerated cleanup of the Hanford Site 300.  The success of the PSF project allowed PNNL to retain and grow critical research capabilities at the laboratory.  Due to its significance to multiple stakeholders and funding complexity, PSF was designated a Major System project.  The project's management team overcame extraordinary management challenges.  The schedule was fixed by an enforceable environmental agreement milestone.  Funding was provided by three separate federal agencies; and the project was executed amid a global construction boom that escalated material and labor costs.  The project team's extraordinary efforts in planning, managing, communicating and effectively coordinating with all stakeholders resulted in completing the project within budget, on schedule and with enhanced capabilities.