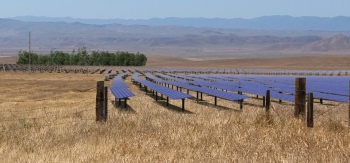 One year ago today, President Obama announced his Climate Action Plan, which called on the United States to be a leader in deploying clean energy. Earlier this morning I had the opportunity to discuss the role of financing in meeting that goal at the Renewable Energy Finance Forum (REFF) Wall Street hosted by the American Council on Renewable Energy (ACORE) in New York City. It was a robust discussion that included  Michael Liebriech of Bloomberg New Energy Finance, Alfred Griffin of NY Green Bank, Michael Picker of the California Public Utilities Commission, Izzet Bensusan of Karbone and Jeff Weiss of Distributed Sun.
As we discussed, there are currently gaps in our capital markets that make it more difficult to accelerate renewable energy deployment and meet our clean energy and climate goals over the next decade. We need a variety of different financing vehicles – both on the debt and the equity side – to help close those gaps and open up capital from the private markets.
The Department's Loan Programs Office (LPO) has helped play a role in filling those gaps by providing loan guarantees to innovative renewable energy projects. Since the President released the Climate Action Plan one year ago, eight utility-scale projects in the Department's loan program portfolio became fully operational, delivering clean, renewable energy to American consumers and helping to diversify the nation's energy portfolio. In total, LPO portfolio projects as a whole have avoided 6 million metric tons of CO2 emissions to date and in April produced enough clean electricity to power a city the size of Dallas, TX. 
The LPO looks forward to continuing to play a role in financing some of the world's most innovative clean energy projects. In December, the LPO issued its $8 billion advanced fossil energy projects solicitation to help reduce emissions of greenhouse gases from fossil fuels. And, of particular interest to the finance professionals I've met here at REFF Wall Street, LPO recently completed accepting public comments for its $4 billion draft renewable energy and efficient energy projects solicitation. If the atmosphere at this forum is any indication, it would appear that we will continue to make progress in achieving the Climate Action Plan's goals over the next year and beyond.