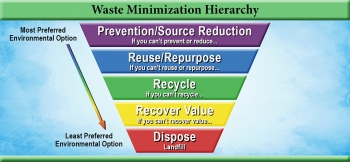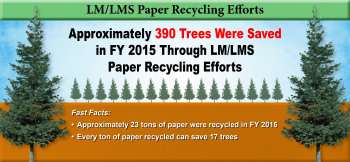 Mission
The team supports efforts that promote a more sustainable environment and implements pollution prevention activities, as deemed appropriate for LM operations and approved by LM, as defined in:
Executive Order (EO) 13693, Planning for Federal Sustainability in the Next Decade, and
DOE Order 436.1, Departmental Sustainability
The team advocates environmentally sound waste minimization and pollution prevention practices.
Scope
Inventory the waste stream.
Prevent or reduce pollution and waste at their source.
Recycle.
Use recycled-content products.
Use less toxic or nontoxic products.
Key Expectations
Monitor and track progress on metrics.
Maintain/implement a plan that integrates waste minimization and pollution prevention into LM activities.
Provide employee awareness and training.
Perform Pollution Prevention Opportunity Assessments (PPOAs).
Maintain an information network.
Propose and implement initiatives.