Mission
The Climate Change Adaption team affirms the overall DOE commitment to plan for and manage the short- and long-term effects of climate change, as deemed appropriate for LM operations and approved by LM, as defined in:
Executive Order (EO) 13693, Planning for Federal Sustainability in the Next Decade, and
EO 13653, Preparing the United States for the Impacts of Climate Change
The team endorses the President's Climate Action Plan, identifies vulnerabilities to the LM mission based on climate science, and recommends ways to prepare for or increase resiliency to potential effects on the mission.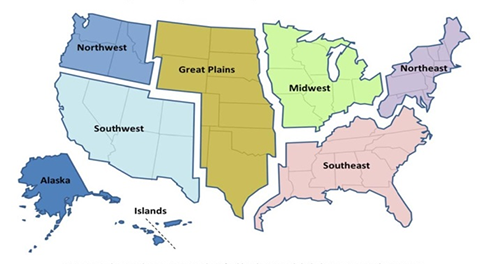 Major U.S. climate change regions identified by the U.S. Global Change Research Program.
Scope
Improve understanding of climate change effects and impacts.
Improve understanding of climate change vulnerabilities and risk.
Improve climate resiliency of all LM sites and facilities.
Key Expectations
Advocate an improved understanding of climate science as it relates to LM facilities and operations.
Work with other agencies to improve understanding of climate change and to develop partnerships for information exchange.
Help assess vulnerabilities and opportunities to increase resiliency.
Encourage updates to applicable emergency response and facility/site plans.
Helpful Resources