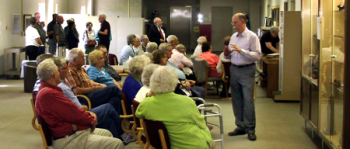 Ray Seiler, Mound Science and Energy Museum President, is one of the many museum volunteers who routinely talks to visitors, such as this group from Iowa who are interested in the history of the Mound site.
The Mound Science and Energy Museum (MSEM) owes its success to dedicated volunteers and supporters. The MSEM currently has 40 active volunteers and 200 dues-paying members.
After the decision to close the U.S. Department of Energy (DOE) Mound site was finalized in 1992 and site cleanup efforts were underway, four volunteers stepped forward in 1998 to start a museum as a way to preserve the heritage of the Mound site. Their goal was to document a sense of the people and environment that led to a half-century of scientific and technical accomplishments. Monthly meetings were originally held in these volunteers' homes as they formulated their initial preservation efforts. The numbers of volunteers gradually grew to approximately one dozen. As their organizational efforts progressed, planning meetings were held at various locations at the Mound site and around the City of Miamisburg. In 2005, Mound Development Corporation (MDC), formerly Miamisburg Mound Community Improvement Corporation, offered the use of a small building onsite that had previously been transferred to them. A protocol was worked out to allow the MSEM (formerly Mound Museum Association) to request from DOE known excess historical documents and artifacts being discarded as part of the remediation efforts at the site. MDC acted as an intermediary between DOE and MSEM. Following approval of the request, the items were transferred to the museum. A number of privately held historical articles and collections were also generously donated by museum supporters.
The MSEM collection currently contains 70,000 declassified photographs, 5,000 unclassified/declassified reports, and 1,400 technical books and journals. The collection also contains numerous items from the site's production days, including declassified nuclear weapons components and heat-source components and models. The heat sources were assembled at Mound by skilled technicians to provide electricity for NASA's deep space flights. Many of the heat sources are still functioning on missions such as Pioneer, Voyager, and Galileo.
The MSEM recently became a member of the American Association for State and Local History and has developed relationships with the National Atomic Museum, the Rocky Flats Cold War Museum, and the Carillon Historical Park in nearby Dayton, Ohio.
After being housed in several facilities both onsite and offsite, in 2011, the museum relocated to its present location in a former Mound site building.
Local high school groups tour the facility as an educational experience, and the museum has been visited by people from around the country. Educational seminars are conducted monthly on a variety of scientific and historical ventures by former employees and other experts. The seminars, which are open to the public, are held on the fourth Wednesday of each month at 7:00 p.m. The MSEM is open to the public Tuesdays 1:00 p.m. to 3:00 p.m. and Saturdays 9:00 a.m. to noon.
For more information call (937) 353-4457 or visit moundmuseum.com.