The U.S. Congress directed the U.S. Department of Energy (DOE), in consultation with the U.S. Environmental Protection Agency and the U.S. Department of the Interior, to undertake a review of, and prepare a report on, abandoned uranium mines in the United States that provided uranium ore for U.S. atomic energy defense activities. In February 2014, the DOE Office of Legacy Management (LM) updated the public about its progress on the data and technical information developed to inform the Report to Congress on defense-related uranium mines.
To inform the public of what LM has learned so far, four draft technical topic reports that provide the foundation of the Report to Congress have been posted to the LM website. The draft topic reports address defense-related uranium mine location and status, the potential impacts of these mines on human health and the environment, estimated cost and feasibility of reclamation and remediation efforts, and priority ranking for reclamation and remediation.
A public webinar was hosted by LM on February 25 to update the interested public on the progress of the Report to Congress. The webinar provided an overview of the four topic reports and answered questions. The presentation from that webinar is available on the LM website.
LM is progressing toward completing the draft Report to Congress, which will undergo an interagency review in March and April 2014. A final review will be made in conjunction with the Office of Management and Budget in April and May 2014. The report will be revised and finalized in June and submittal is expected to happen in July.
Additional information about the Abandoned Uranium Mines Report to Congress is available at http://www.lm.doe.gov/aum. If you have any questions or would like to send us additional information, please e-mail AUM@lm.doe.gov.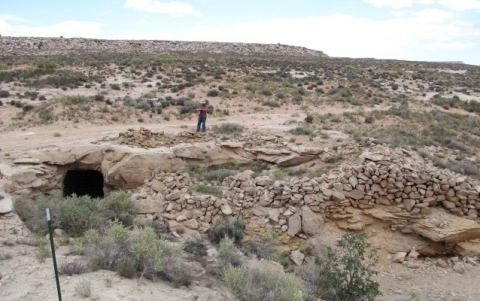 This small mine in the Yellow Cat mining District of Utah is an example of
the majority of the mines that LM identified. Of the 4,225 defense-related
uranium mines identified, nearly 3,000 fall into the small and small to
medium categories that provided 1,000 tons of ore or less.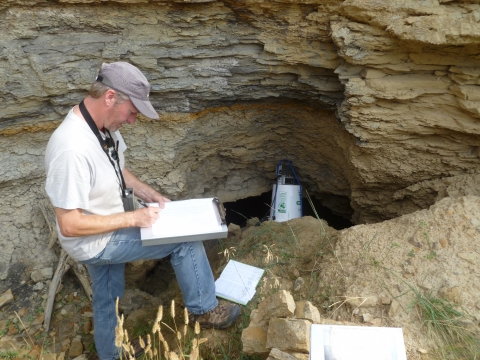 An LM contractor collects radon measurements at the mouth of an adit
in the Little Ann Mine in the Edgemont District in South Dakota during
a field visit.