The U.S. Department of Energy Office of Legacy Management (LM) continues to work on a report to Congress regarding defense-related legacy uranium mines. LM was directed by the U.S. Congress in the National Defense Authorization Act for Fiscal Year 2013 to undertake a review of, and prepare a report on, abandoned uranium mines in the United States that provided uranium ore for atomic energy defense activities. The report is due to Congress by July 2014.
LM is compiling uranium mine data from federal, state, and tribal agencies for the report. The data is also being used in four topic-specific technical reports that focus on the locations and status of defense-related uranium mine reclamation and remediation, impacts of these mines on public health and the environment, the potential cost and feasibility of reclamation and remediation efforts, and a ranking of priority for reclamation and remediation.
 
Possible physical hazards, exposure pathways, and contamination associated with uranium
mine sites.
To date, LM has identified approximately 4,213 defense-related legacy uranium mines, primarily located in the western U.S. Data collected indicates that over 500 mines have been closed, reclaimed, or remediated. LM's most recent assessment shows that almost three-quarters of all known mines are on public lands managed by the federal government. The majority of mines without detailed location information are in Colorado and Utah (see table below). Although the locations of approximately 580 mines are limited to the county and state, most produced very few tons of uranium ore and only 7 produced over 1,000 tons.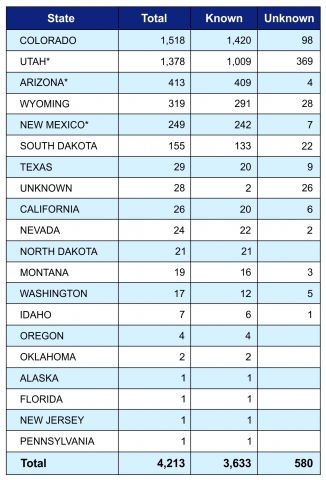 Location and status of defense-related legacy uranium mine claims
by state.
* Arizona, New Mexico, and Utah include the mines located on
the Navajo Nation
Most recently, LM visited 84 defense-related legacy uranium mine sites located within 11 uranium mining districts in 6 western states. At these sites, photographs and global positioning location data were collected on mine features including, adits; shafts; mine-waste-rock dumps; large, open-pit mines; drill holes; ventilation shafts; access roads; and structures (see photos below). Radon and gamma exposure-rate data were also collected at mine features and locations near the mines. Data obtained in the field will be used to improve historic data and assumptions such as those used to calculate risk associated with exposure pathways at uranium mine sites.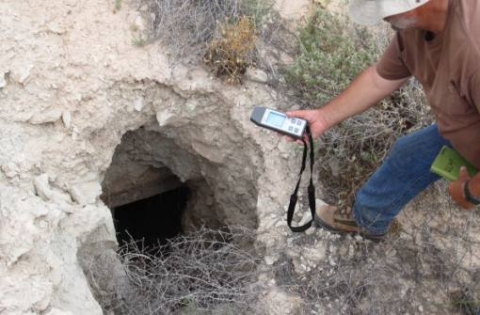 Field personnel collecting gamma exposure-rate measurements at a subsided mine portal
in the Yellow Cat mining area of Grand County, Utah.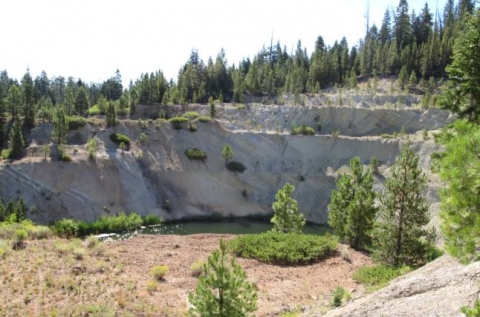 Remnants of Lucky Lass Mine, a large open-pit uranium mine, in the mining area of
Lake County, Oregon.
As directed by Congress, LM will continue to consult with the U.S. Environmental Protection Agency and the U.S. Department of the Interior on this effort. LM is also engaging other relevant federal agencies, affected states and Tribal Nations, and the interested public. Public webinars are planned to occur in late fall to provide information and to seek input on the four topic-specific technical reports.
More information about the report to Congress is available on LM's website at www.lm.doe.gov/AUM. To submit questions, comments, or information about defense related legacy uranium mines, please e-mail AUM@lm.doe.gov.
All input is welcome and appreciated.