Community Leaders Institute Held at Savannah State University
A Community Leaders Institute (CLI) was held September 6 and 7, 2013, in the King Frazier Student Center at Savannah State University in Savannah, Georgia. Sponsors included the Medical University of South Carolina, South Carolina State University, Savannah State University, Southeastern Virtual Institute for Health Equity and Wellness, the U.S. Department of Energy, and the U.S. Department of Defense.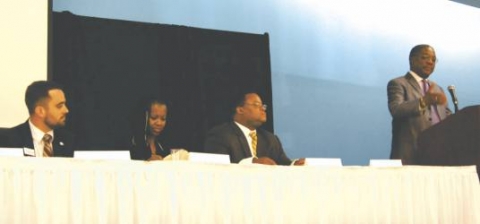 Left to right: Community Leaders Institute, Savannah State University panelists
Mr. Bent Subbs, Ms. Abena Ajanaku, Mr. Quinton Robinson, and Dr. David Rivers
CLI focuses on the unique relationship between environmental protection, human health, environmental justice, and economic development. The topics discussed at this CLI included the role of federal, state, and local governments; the challenges experienced by community youth and the development of resources to meet those challenges; creating a plan to stimulate the retention, expansion, and attraction of businesses and economic development to the community; and health disparities and health issues.
The purpose of CLI is to help community leaders learn more about accessing and obtaining the information necessary for making good decisions and communicating that information to the citizenry.
Over 300 participants attended this CLI.