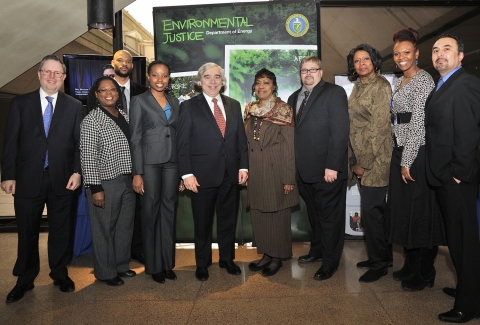 DOE Secretary Moniz (fifth from left) and members of the DOE EJ Task Force celebrate
E0 12898 20-year anniversary.
February 11, 2014, marked the 20-year anniversary of Executive Order (EO) 12898, "Federal Actions To Address Environmental Justice in Minority Populations and Low-Income Populations." EO 12898 focused federal attention on the environmental and human health conditions of minority populations and low-income populations. It required each federal agency to "make achieving environmental justice (EJ) part of its mission by identifying and addressing, as appropriate, disproportionally high and adverse human health or environmental effects of its programs, policies, and activities." The order further states that "each federal agency responsibility set forth under this order shall apply equally to Native American programs."
Since signing EO 12898, the U.S. Department of Energy (DOE) has remained committed to the principles of EJ and has ensured that these principles are fully integrated throughout its programs. To further demonstrate this ongoing commitment, DOE sponsored a series of anniversary-related activities during the month of February, including:
Hosting the EJ exhibit at DOE headquarters;
Publishing a new EJ brochure;
Posting a video entitled "A Review of the Department of Energy's Implementation of Executive Order 12898 and Recommendations for A Second Five-Year Implementation Plan," and accompanying report on DOE's EJ website; and
U.S. Secretary of Energy, Dr. Ernest Moniz, met with the EJ Task Force to convey his appreciation for their dedication and
hard work.
A reception on the evening of March 27, during the 2014 National Environmental Justice Conference and Training Program, was held to celebrate this notable anniversary. More than 380 conference participants attended. DOE will also conduct a special program later this year to commemorate the anniversary.
In keeping with President Obama's Proclamation of February 11, 2014, and the 20-year anniversary of EO 12898, DOE is committed to the charge for all Americans to move forward with the same unity, energy, and passion to live up to the promise that in America, no matter who you are or where you come from, you can pursue your dreams in a safe and just environment.
For more information on any of the activities contact Melinda Downing at melinda.downing@hq.doe.gov.