The consolidated data center at the Legacy Management Business Center (LMBC) in Morgantown, West Virginia, is now guarded by a state-of-the-art FM-200® Fire Suppression System. Installation of the new system began on June 11, 2013, and the system became operational on July 18.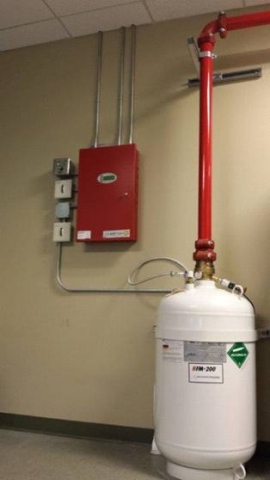 FM-200® Fire Suppression System
The "Clean Agent" system offers several advantages over traditional fire suppression. FM-200 is a clean, colorless, and environmentally friendly fire suppressant that is electronically non-conductive and safe for humans. The fire suppression system extinguishes flames primarily through heat absorption and is safe for use in occupied areas. It leaves no residue, minimizing system downtime and cleanup costs in the event of a fire. The U.S. Department of Energy (DOE) and the LMBC also chose a patented rupture disc valve design for the storage and delivery system of the FM-200, because it offers flexibility, effectiveness, safety, and speed.
In the unlikely event of an FM-200 failure, the original water-based fire suppressant system is still operational.
Because the FM-200 is environmentally friendly, it supports the DOE Office of Legacy Management's (LM) second goal, to "protect human health and the environment." Chlorofluorocarbons, or "CFCs," Halons, and other chemicals used in many fire suppression systems have long contributed to the destruction of the vital ozone layer of the earth's atmosphere.
Non-ozone-depleting HFC-227ea, a Clean Agent fire suppressant trademarked by DuPont as FM-200, safeguards people and vital assets from fire while still protecting the precious ozone layer. FM-200 systems are also designed to discharge in less than ten seconds, decreasing the atmospheric impact of release. The system is also recognized by the United States Green Building Council as Leadership in Energy and Environmental Design–certified.
With the addition of the FM-200 fire suppression system, LM personnel, critical assets, and data are protected from fire better than ever before.