More than 150 participants attended the 2014 Community Leaders Institute (CLI) in Montgomery, Alabama, on April 25 and 26. The event was sponsored by the Medical University of South Carolina; U.S. Department of Energy (DOE); Southeastern Virtual Institute for Health and Wellness; U.S. Department of Defense; the City of Montgomery; EcoLogic Services, Inc.; Project H.E.L.P.; Community Care Network; and Alabama State University.
The purpose of the CLI is to assist leaders in knowing how to access and obtain the information necessary for making good decisions and communicating that information to the citizenry. CLI focuses on the unique relationship between environmental protection, human health, environmental justice, and economic development.
A critical factor in the success of community development programs is a well-informed community, and CLIs continue to expand the theme of Building and Sustaining Healthy Communities. Action occurs when those with authority assume an informed and active leadership role. 
Sessions for this year's CLI included discussions on the relationship between federal, state, and local governments; issues and challenges experienced by community youth, and developing resources to meet those challenges; economic and community development, housing, and transportation; and health disparities and issues.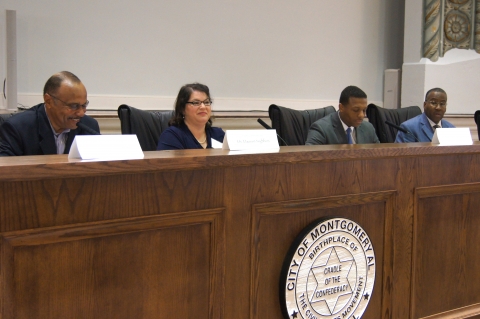 Left to right: Honorable John Knight Jr., Maureen Neighbors, Robert Smith,
and Cedric Varner.