In February 2014, U.S. Department of Energy (DOE) Office of Legacy Management (LM) and LM Support (LMS) contractor site managers, along with Navajo Nation technical staff, visited five reclaimed uranium-mine sites on tribal lands to share expertise in the use of technical approaches for controlling and mitigating erosion. Due to the geology of the desert southwest, where many LM disposal sites are located, and the area's extreme weather, erosion can be a serious issue that damages engineered structures such as roads, building foundations, and fences.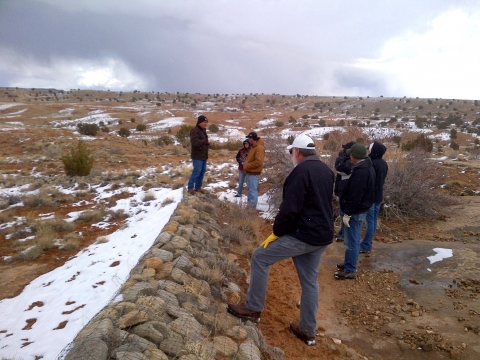 Gilbert Dayzie, Navajo Nation AML civil engineer, describes the flow-through design of rock-lined
diversion berms to LM representatives.
LM has four uranium mill sites on the Navajo Nation (Monument Valley and Tuba City, Arizona; Mexican Hat, Utah; and Shiprock, New Mexico) and works closely with the tribal representatives to ensure the sites are well managed and maintained. Navajo technical staff have extensive experience in addressing geotechnical challenges that are similar to those faced by LM, such as protecting disposal sites or reclaimed mines from the negative impacts of erosion. Erosion has been a serious issue on the Navajo Nation for decades, resulting in loss of grazing lands and topsoil, and the creation of gullies. The Navajo Nation has centuries of experience working with the native environment on their tribal homeland including, plants, climate, topography, and geology.
Tour participants included seven members of LM and LMS staff from the Grand Junction, Colorado, office. The office is responsible for managing several sites in the "Four Corners" region of the U.S. Representatives from the Navajo Nation Uranium Mill Tailings Remedial Action/Abandoned Mine Lands (UMTRA/AML) joined the tour.
Navajo Nation AML is funded by a levy on coal mines operating on the reservation. Historically, mining on the Navajo Nation extracted as much as 27 million tons of coal per year, and to date the agency has reclaimed over 1,100 mine sites on their tribal lands. In addition to coal mine reclamation, AML also reclaims land affected by non-coal projects, such as stabilizing uranium mine waste on tribal lands. The tour group visited sites that were remediated after uranium mining.
The tour started at the Navajo Nation AML office in Shiprock, where Gilbert Dayzie, civil engineer, provided the group with an overview of AML's design, cost estimating, procurement, and construction processes. Although the agency performs its own engineering designs for the reclamation projects, they consider and evaluate alternative design suggestions from contractors, and perform 100 percent oversight of all subcontractor construction activities at reclamation sites. Mr. Dayzie emphasized that in preparing engineering plans for erosion control, "We can't beat Mother Nature, but we can work with her." LM representatives shared an overview of the general process that they use for design and up-front preparation for construction activities.
Following an overview, the group toured the Shiprock disposal site (a former uranium-ore processing site), where LM is currently evaluating options to repair erosion damage resulting from severe summer storms. The erosion damage is of concern because site access and parts of the treatment system could be affected. LM is responsible for long-term surveillance and maintenance of disposal cells, but the work cannot take place if site access is impaired. Navajo Nation AML provided LM with several useful suggestions during the Shiprock tour, including design options and alternative installation techniques for slowing runoff rates of storm-water flow, thereby decreasing the erosive effects of running water.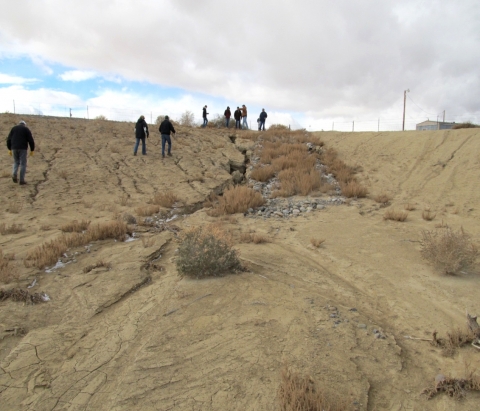 Tour participants gather to discuss an area of recent erosion at LM's Shiprock, New Mexico, site.
Tour activities in the afternoon took the group to three reclaimed mine sites in the Teec Nos Pos, Arizona, Chapter area, approximately 45 miles west of the Shiprock site; all part of the "Tse Tah Problem Area." One of the sites included several reclaimed mine portals located on the face of a sandstone cliff. Reclamation incorporated diversion berms to direct surface-water flows up-gradient of the project areas. Surface-water flows on the project areas were controlled by a detention basin. This method of reclamation will cause most of the surface water to infiltrate the ground. Successful management of surface water successfully stabilizes sediments, minimizes erosion, and promotes vegetation growth.
Two other sites on the tour had disposal cells designed similar to UMTRA disposal cells. Mounded (convex) cell covers were designed to minimize erosion by allowing rainwater and sediments to wash off the cover. An inverted (concave) cap design allows the accumulation of sediments, encouraging vegetation growth and moisture retention. Navajo Nation AML representatives were interested in LM's experience with vegetated disposal cell covers and requested additional information, which has been provided.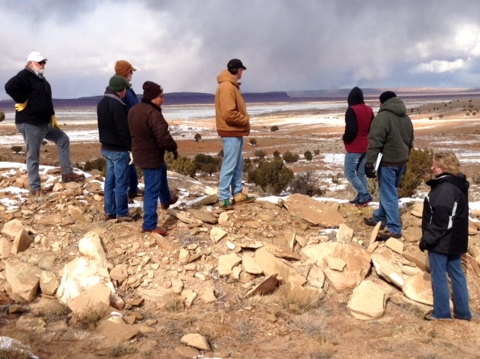 Navajo Nation and LM representatives view a Navajo Nation AML disposal cell cover at
Project Area NA-0916 near Red Mesa, Arizona.
The result of the tour and discussions was positive and provided an opportunity for Navajo Nation AML and LM to collaborate, share lessons learned and best practices, and to consider innovative and effective techniques for erosion control. AML's engineering techniques are effective for the topography of tribal lands and the desert environment, and its preference for utilizing existing site materials creates a cost savings and supports land stewardship by not importing material foreign to the area's natural system. LM will evaluate these practices in future projects.
LM provided Navajo Nation AML with information relating to disposal cell engineering techniques that may prove to be useful for future reclamation activities.