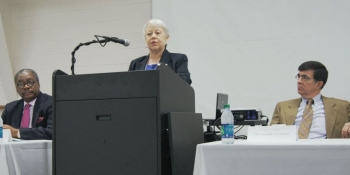 Dr. Kathy Matlock speaks at the Community Leaders' Institute in Bolton, North Carolina, while Dr. David Rivers (left) and Mayor Terry Mann (right) listen.
The Bolton Community Leaders Institute (CLI) held a conference on February 22 and 23 at the Southeastern Community College in Whiteville, North Carolina. The conference was sponsored by the Medical University of South Carolina, U.S. Department of Energy, Southeastern Virtual Institute for Health Equity and Wellness, U.S. Department of Defense, South Carolina State University, Southeastern Community College, Town of Bolton, Countywide Community Development Corporation, and Town of Navassa. The CLI continues to build on the theme Building and Sustaining Healthy Communities. A critical factor in the success of community development programs is a well-informed community. Action occurs when those with authority assume an informed and active leadership role.
The purpose of the CLI is to help these leaders know how to access and obtain information necessary for making good decisions and communicating that information to the citizenry. The focus of the CLI is on the unique relationship between environmental protection, human health, environmental justice, and economic development. Sessions for this CLI included the intergovernmental relationship between federal, state, and local governments; youth issues and challenges experienced by youth in the community; the development of resources needed to meet these challenges; economic development; housing and transportation focusing on creating a plan to stimulate the retention, expansion, and attraction of businesses and economic development to the community; and health disparities, especially the combined effects of diabetes, hypertension, and obesity known as metabolic syndrome. One of the many highlights of the CLI was a presentation by Eboni Smith, a senior at East Columbus High School in Lake Waccamaw, North Carolina. Eboni was invited and has agreed to also present at the National Environmental Justice Conference and Training Program, which is scheduled to take place April 3 through 5, 2013, in Washington, DC.