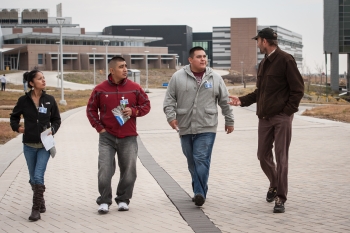 From left to right, Reyna Banteah, Shaun Tsabetsaye, and Jeremy Laselute of Zuni Pueblo, with NREL's Otto VanGeet. Photo by Dennis Schroeder, NREL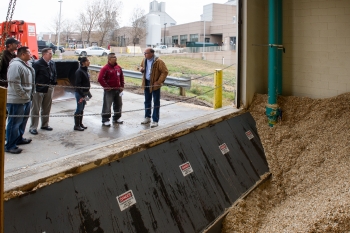 Touring NREL's Integrated Biorefinery Research Facility. From left to right: Otto VanGeet, NREL, Jeremy Laselute, Zuni Pueblo, Colton Heaps, NREL, Reyna Banteah, Zuni Pueblo, Shaun Tsabetsaye, Zuni Pueblo, and Chris Gaul, NREL. Photo by Dennis Schroeder, NREL
Touring NREL's Integrated Biorefinery Research Facility. From left to right: Reyna Banteah, Shaun Tsabetsaye, and Jeremy Laselute from the Zuni Pueblo Tribe. Photo by Dennis Schroeder, NREL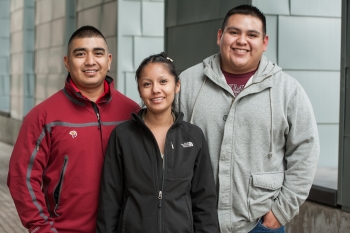 From left to right: Shaun Tsabetsaye, Reyna Banteah, and Jeremy Laselute from the Zuni Pueblo Tribe. Photo by Dennis Schroeder, NREL
As an electrical engineering consultant working for my Tribe of Zuni Pueblo, I had the opportunity to arrange a trip to the U.S. Department of Energy's (DOE's) National Renewable Energy Laboratory (NREL) for two undergraduate students in the latter part of October. The trip gave all of us a glimpse of the potential for Zuni Pueblo in building a technical pipeline for our people. The relationship is a continuing one for me from a personal standpoint of being a former intern of DOE's Office of Science Undergraduate Laboratory Internship (SULI) program in 2003, and currently working with DOE and NREL technical experts through the technical support they are providing Zuni Pueblo as part of the DOE Office of Indian Energy's Strategic Technical Assistance Response Team (START) Program.
Within a few weeks of visiting NREL, I was further encouraged to hear U.S. Secretary of Energy Dr. Ernest Moniz specifically mention at the White House Tribal Nations Conference the technical assistance that the Office of Indian Energy and NREL are providing to Zuni Pueblo on our community-scale photovoltaic (PV) project. His comments drove home the point for me to be ever more committed as a professional to continue to nurture and mentor members of Zuni Pueblo to be science, technology, engineering, mathematics (STEM) professionals. It is imperative for our Tribe to be able to identify a tangible group of professionals we can call on as experts from our own community. As examples of those who are on their way to becoming professionals, please read the blogs posted by STEM undergraduate students Reyna Banteah and Jeremy Laselute of Zuni Pueblo to hear their perspectives on the trip.
The 350-kilowatt community-scale PV project mentioned above is one that targets many goals, including:
To ensure water security for our community when a power outage occurs
To provide an economic offset on the annual cost of pumping water
To help build technical capability for our Tribe
To help us establish and define the roles and responsibilities of Zuni's own Office of Renewable Energy in partnership with Zuni Utility Office
To build relationships with local power utilities
To help our Tribe to enter into the larger solar energy market.
The visit to NREL gave me a deeper appreciation of Zuni Pueblo's relationship with DOE's tribal energy programs and NREL, and how the relationship will enable us to realize our desire to be self-sufficient. On behalf of the Zuni Tribal Council and Zuni Pueblo's Renewable Energy team, we truly appreciate the support we continue to receive from the START team.
Learn more about the START Program. Also check out the SULI Program, which is currently accepting applications through January 10, 2014 .