From left to right: James Jensen, Tom Johnson, Jody Rosier, and Rebecca Kauffman of Southern Ute Alternative Energy, and Otto VanGeet and Alex Dane of NREL, tour a potential solar array site on Southern Ute tribal land in Ignacio, CO. Photo by Dennis Schroeder, NREL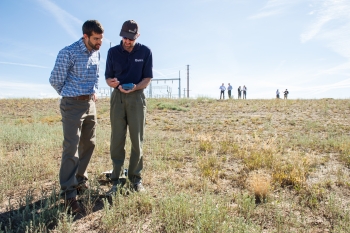 NREL's Otto VanGeet (right) shows James Jensen of Southern Ute Alternative Energy how to use a SunEye tool to check solar availability of the site. Photo by Dennis Schroeder, NREL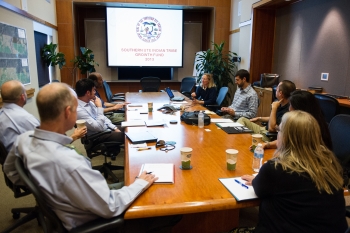 START Program team members from NREL meet with representatives from the Southern Ute Tribe and Southern Ute Alternative Energy. Photo by Dennis Schroeder, NREL
On July 31, the Office of Indian Energy's Strategic Technical Assistance Response Team (START) Program team, which includes technical experts from the National Renewable Energy Laboratory (NREL), was on-site in Ignacio, Colorado, conducting a site visit for the Southern Ute Tribe. The Tribe was one of 10 selected to receive renewable energy project technical assistance through the 2013 START Program. The Tribe and Southern Ute Alternative Energy (SUAE), which is part of the Southern Ute Growth Fund, a diversified investment and business management organization owned by Tribe, are interested in developing a solar photovoltaic project using a community ownership model.
This type of renewable energy project and financing arrangement is unique, as community members, businesses, and organizations can participate and remotely "own" the electricity generation of a panel or more, and thus reap incentives and lock-in a known fixed-cost for that amount of electricity in the long term. 
The day was dedicated to discussions on technical, development, and financing aspects of the potential project with SUAE's team, including Rebecca Kauffman, James Jensen, and Jerry Golden, as well as Jody Rosier and Tom Johnson, who work for the Tribe. I was joined by my fellow START team members from NREL, Jason Coughlin and Otto VanGeet, who brought their wealth of knowledge to shed light on both technical considerations and project financing options.       
Beyond the discussions, slides, and spreadsheets, we visited the land parcels identified as potential project locations on Southern Ute tribal land. We also met with leadership from La Plata Electric Association, the local utility that serves La Plata County, whose service area includes the Southern Ute tribal population and lands. Closing out the day, SUAE identified what types of analysis the START team could provide that will be the most helpful to keep the project moving forward over the next few months.
I look forward to the development progress and outcomes that will result from the START Program collaboration with the talented project staff members from the Tribe and SUAE. Their efforts provide a great example of how locally generated power owned by community members can be empowering in many senses of the word.
Learn more about the START Program.