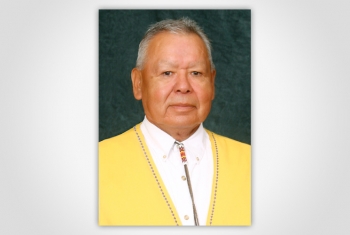 Harold "Gus" Frank, Forest County Potawatomi Community Chairman and 2012 White House "Champion of Change". Photo from Potawatomi Traveling Times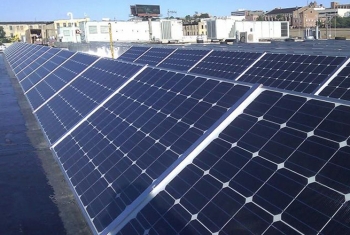 Solar panels on the rooftop of the Forest County Potawatomi Tribe's administration building in Milwaukee, Wisconsin. Photo from NREL 20107
Change doesn't happen on its own. It's led by dedicated and passionate people who are committed to empowering Indian Country to energize future generations. Leading the Charge is a regular Office of Indian Energy newsletter feature spotlighting the movers and shakers in energy development on tribal lands.
Name: Harold "Gus" Frank
Tribe: Forest County Potawatomi (FCP) Community
Title/Role: Chairman and 2012 White House "Champion of Change"
Areas of expertise: Patience
Current projects: The Tribe is undertaking a number of energy projects to help meet its goal of energy independence using only sustainable, carbon-free, or carbon-neutral resources. It has completed the request for proposal (RFP) process for a 2-MW biogas facility on fee lands in Milwaukee, Wisconsin. It is also exploring potential biomass, biogas, solar, and wind projects on or near its reservation. In addition, the Tribe continuously investigates and implements energy efficiency measures.
Two of its biggest energy projects, which are being conducted with DOE's assistance, are energy efficiency retrofits at Wundar Hall, a historic property on the Tribe's trust lands in Milwaukee, and an energy efficiency feasibility study at the Potawatomi Carter Casino and Hotel. The Tribe continues to track its progress toward energy goals by conducting quarterly audits that demonstrate its diminishing carbon footprint.
How did you become involved in tribal energy? The Tribe's culture and traditions establish a duty to help protect and enhance environmental resources, both on reservations and throughout the world. Tribal energy projects, particularly renewable energy and energy efficiency projects, are an obvious and effective way to meet that duty.
What are the greatest opportunities for Indian Country? Many Tribes, including the FCP Community, have land holdings and natural resources (e.g., sun, wind, timber) necessary for renewable energy projects. However, more funding and training are necessary for Tribes to fully recognize these opportunities. Also, for Tribes that don't have a significant land or resource base, energy efficiency upgrades at tribal buildings (especially casinos) can provide them with a great opportunity to save money and reduce their carbon footprint.
What are the biggest challenges? Not surprising to anyone, funding and project economics are some of the biggest challenges. Learning how to "speak DOE" has been a challenge. Also, due to the nature of the FCP Community's land holdings, with trust and fee lands scattered in Forest County and Milwaukee County, it can be a challenge to ensure that everyone understands the nature and extent of the Tribe's projects and how they relate to its energy and environmental goals.
What is the best part of your job? Knowing that the tough decisions we are making today will help the environment and future generations of our tribal members.
What is your vision of the future? Tribes taking steps to produce sufficient clean power to meet all of their members' needs, with Tribes sharing knowledge to help other Tribes become energy independent.
Favorite quote: One of our elders said, "Let us share our natural resources for the good of our People. Let us work for clean air and water and pray for the courage to stand up to those who would abuse our Mother Earth."
The FCP Community was one of the Tribes selected to receive technical assistance through the Office of Indian Energy's 2012 Strategic Technical Assistance Response Team Program.