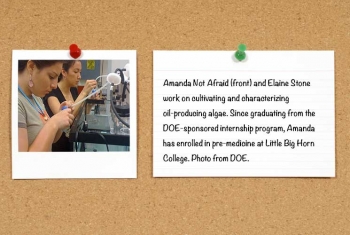 Thanks in part to DOE funding and technical support, student interns from the Crow Tribe in Montana had the opportunity to participate in an algae biomass research project that could help prepare them for cleantech jobs and pave the way for their Tribe to produce clean, renewable energy.
The Cultivation and Characterization of Oil Producing Algae Internship placed students in a laboratory alongside established researchers to study local algae samples and evaluate their possible use in energy applications. The project focused on an integrated coal-to-liquid (ICTL) technology developed by Accelergy, which reforms local Montana bituminous coal and indigenous biomass feeds, including algae, into a liquid that is economical to transport and use as fuel.
During last summer's program, students collected algae at two different pond sites outside of the Crow reservation, built bioreactors to grow the algae, harvested the algae, and then freeze-dried their samples to check for oil quantities that could be useful to the ICTL technology.
Acceptance into the two programs is competitive. Of the 70 applicants in 2011, 45 were chosen and 38 graduated. The students who successfully completed the internship program are now in the workforce or attending one of the sponsoring institutions.
Learn more about biomass in the Office of Indian Energy's on-demand webinar on biomass renewable energy.