Joe Yip, a researcher at FE's National Energy Technology Laboratory, uses laser-based Rayleigh light scattering to measure flame density and speed over a flat flame burner. Oxyfuel combustion, using oxygen in place of air with diluents such as steam or carbon dioxide, can reduce pollutant emissions in advanced power cycles using gas turbines. Photo courtesy of NETL Multimedia.
The workhorse of America's electric power sector is the coal-fired power plant. Today, coal combustion plants account for more than half of the Nation's electric power generation. Largely because of these plants, U.S. consumers benefit from some of the most affordable power rates in the world.
The technology of burning coal has made remarkable advances in the last quarter century, and much of this progress is due to federal research and development partnerships with private sector developers.
In the 1990s, fluidized bed combustion - a process that removes pollutants inside the coal boiler - was termed "the commercial success story of the last decade" by a major power industry publication. The first new coal-fired power plant to be built in Illinois in more than 15 years will employ a new type of "low-emission boiler" technology developed in the federal government's energy program. Innovations in burner designs, refractory materials, and high-temperature heat exchanges are all products of the Department of Energy's research program into cleaner, more efficient ways to burn coal.
Oxycombustion
Oxy-fuel combustion is a promising near-term technology for CO2 capture and storage (CCS) from pulverized coal (PC) fired boilers for power or industrial applications with ultra-low emissions. The basic concept of oxycombustion is to replace the combustion air with a mixture of oxygen and recycled flue gas and/or water for temperature control. The remainder of the flue gas, that is not recirculated, is rich in carbon dioxide and water vapor, and is easily separated, producing a stream of CO2 ready for utilization or sequestration. Prior research on PC oxy-fuel has shown that, in order to maintain the oxygen/ recirculated flue gas flame so that the oxy-combustion system has heat transfer characteristics similar to that of an air-fired system, an oxygen level of about 30-35 percent is required in the gas entering the boiler.
Schematic of oxycombustion process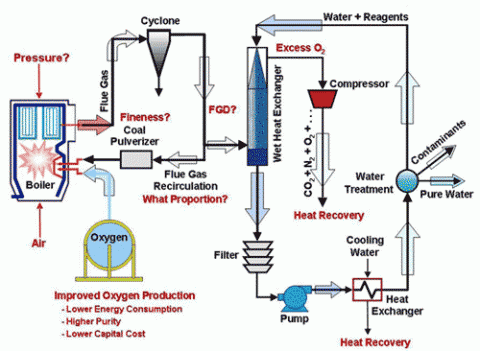 Multiple oxycombustion facilities at various scales are being constructed or are in operation around the world. DOE is continuing research to design an optimized oxycombustion power plant by:
developing a better understanding of the oxycombustion flame, and of heat and mass transfer in oxycombustion systems;
developing an understanding of the character and distribution of ash and slag in PC oxycombustion systems;
developing solutions for the potential low-pressure steam turbine imbalance in PC retrofit applications;
supporting development of improved systems and CFD models and modeling tools.
Chemical Looping
Another breakthrough oxycombustion concept under development is the chemical looping combustion process. Chemical looping splits combustion into separate oxidation and reduction reactions. A metal (e.g., iron, nickel, copper, or manganese) oxide is used as an oxygen carrier, which then releases the oxygen in a reducing atmosphere and the oxygen reacts with the fuel. The metal is then recycled back to the oxidation chamber where the metal oxide is regenerated by contact with air. The advantage of using two chambers for the combustion process is that the CO2 is concentrated, once the water is removed, and not diluted with nitrogen gas. The benefit of the process is that no air separation plant or external CO2 separation equipment is required.
Air Separation
Oxycombustion cannot be simply substituted for air combustion in existing fossil-fueled power plants due to differences in combustion characteristics. For oxycombustion to be a cost-effective power generation option, a low-cost supply of pure oxygen is required In order for oxycombustion to be utilized in existing plants, a thermal diluent is required to replace the nitrogen in air. 
In the most frequently proposed version of this concept, a cryogenic air separation unit is used to supply high purity oxygen to the boiler. This commercially available technology is both capital and energy-intensive and could raise the cost of electricity from coal-fired plants considerably, in addition to degrading the overall plant efficiency. However, novel technologies currently under development, such as oxygen and ion transport membranes, have the potential to reduce the cost of oxygen production.