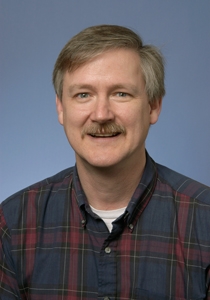 National Energy Technology Laboratory metallurgist Dr. Paul Jablonski, was named a finalist for a Partnership for Public Service Samuel J. Heyman Service to America Medal
National Energy Technology Laboratory (NETL) metallurgist Dr. Paul Jablonski, was named a finalist for a Partnership for Public Service Samuel J. Heyman Service to America Medal – known as the Sammies – during a congressional breakfast ceremony today in Washington, DC.  The annual awards pay tribute to federal employees whose work advances the health, safety and well-being of Americans. 
Dr. Jablonski was tapped as one of eight finalists – out of more than 300 nominees – for the prestigious Science and Environment Medal in recognition of his leading role in developing and fabricating a novel platinum-chromium alloy for use in new, state-of-the-art coronary stents.  These stents are now being sold worldwide by the Boston Scientific Corporation.
A coronary stent is a small, expandable mesh tube that is placed in a narrowed or weakened coronary artery of heart patients, allowing the passageway to stay open. Every year coronary stents save thousands of lives by expanding diseased arteries and allowing blood to flow freely.  But the drawback of previous stents was their inability to be seen in x-rays, making proper placement difficult and sometimes dangerous.
Working with NETL colleagues Paul Turner and Ed Argetsinger, as well as scientists from Boston Scientific, Dr. Jablonski developed an alloy that is more visible in X-rays than traditional stents – and it makes the new stents more resistant to corrosion and more flexible than conventional stents.  These advances have led to improved clinical outcomes, better long-term prognosis for patients, and reduced healthcare costs.
Dr. Jablonski has had a distinguished career, authoring or co-authoring more than 65 peer-reviewed publications and collecting four patents.  His numerous awards include three R&D 100 Awards, a Secretary of Energy Achievement Award, and five Federal Laboratory Consortium Awards for Excellence in Technology Transfer – including the Consortium's award he and the NETL team received last year for their work on the new coronary stent alloy. 
In addition to his professional accomplishments, Dr. Jablonski is also known for his commitment to helping others. Always willing to share his knowledge and experience, he is a mentor to young people interested in pursuing a career in materials science and engineering.   He is also active in charitable work in his community.
Named in honor of the Partnership for Public Service's founder, Samuel J. Heyman, the Sammies have been awarded annually since 2002 and are considered the "Oscars of government service." This year's award winners, including Federal Employee of the Year, will be announced on October 3 during a ceremony at the Andrew Mellon Auditorium in Washington, D.C.