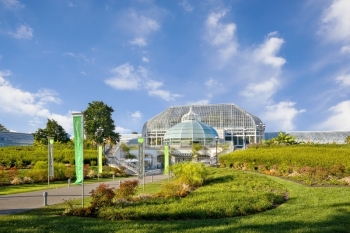 Photo credit: © Denmarsh Photography, Inc.
At first glance, one of the world's greenest greenhouses and an energy lab may seem an unlikely pair, but they share more than their Pittsburgh, Pa., location. The Phipps Conservatory Botanical Gardens and the National Energy Technology Laboratory (NETL) also share a concern for water.
Phipps showcases lush gardens and dazzling plants as its main attraction, but it thrives on a mission to advance sustainability. Phipps' Center for Sustainable Landscapes—their new home for education, research, and administration—captures rainwater and treats all water used onsite for reuse. Integrated systems, including a manmade lagoon and wetland, rain gardens, green roofs, and water-permeable paving are designed to lessen Phipps' burden on city sewage treatment and potable water systems.
NETL has a green thumb as well—not a knack for growing plants, per se, but one for lessening the environmental impact of energy use, including its impact on the nation's precious water resources. Water and energy are inextricably linked. The U.S. Geological Survey reports that, each year, more water is withdrawn from America's water bodies for thermoelectric power generation than for any other use, including irrigation.
Phipps and NETL recently signed a Memorandum of Understanding for collaborative research involving water-management systems installed at Phipps. NETL researchers have now begun collecting and analyzing water, sediment, and plant samples to determine the effectiveness of Phipps' water-treatment systems over time. These researchers will apply what they learn to NETL's larger investigation into greenhouse gas storage, emissions controls, and reduction of water use in power plants.
Pittsburgh has frequent wet weather, but surprisingly, there is little local data about how to deal with excess storm runoff and other problems. Phipps hopes that some of the lessons learned from monitoring the performance of its water-management infrastructure will fill gaps left by previous research and spur ideas for improving local water-quality and storm-water management. The use of NETL facilities and analytical and scientific expertise will help Phipps achieve this goal. The results could help others reduce water use and greenhouse gas emissions, and also increase the number of sustainable buildings across the nation.
It's an exciting collaboration, one that promises to help Phipps—both a historic beauty and a local treasure—become even greener. And, as NETL Director Anthony Cugini emphasizes, "developing efficient water-reuse technologies is also important to the energy industry, which fuels the economic growth of this region."