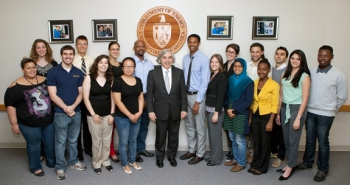 Secretary Moniz with the 2013 Class of Mickey Leland Energy Fellows
A 10-Week Summer Internship Program
The Mickey Leland Energy Fellowship (MLEF), sponsored by the U.S. Department of Energy's Office of Fossil Energy, is a 10-week summer internship program that provides opportunities to students who are pursuing degrees in science, technology (IT), engineering, or mathematics (STEM majors). The goal of the program is to improve opportunities for minority and female students in these fields, but all eligible candidates are encouraged to apply. Candidates who are selected will have the opportunity to work under the mentorship of program officials and researchers on focused research projects consistent with the mission of the Office of Fossil Energy.
During the 10 weeks, students will receive a paid stipend, in addition to an approved housing allowance and transportation expenses to and from the work site.  At the conclusion of the internship, students will attend a "Technical Forum" where they will present their research project and tour a technical site located nearby (the location of the technical forum changes every year).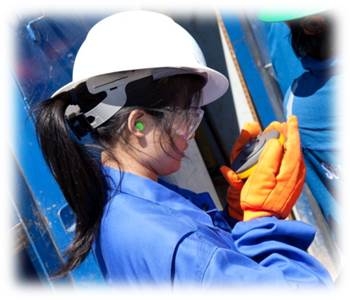 2014 Program Information
Applications accepted from the week of November 18, 2013 to January 15, 2014.
How to Apply
All supporting documentation must be submitted online and received by 11:59 (GMT) on Wednesday, January 15, 2014.
Important 2014 Program Dates
Application Period Opens -  Week of November 18, 2013
Application Period Closes - January 15, 2014
Applicant Eligibility Review  - January 16 -31, 2014
Sponsors/Mentor Interview - February 1-28, 2014
Candidates Notified of Selection - March 1-31, 2014
2014 Internship Dates -  June 2014 to August 2014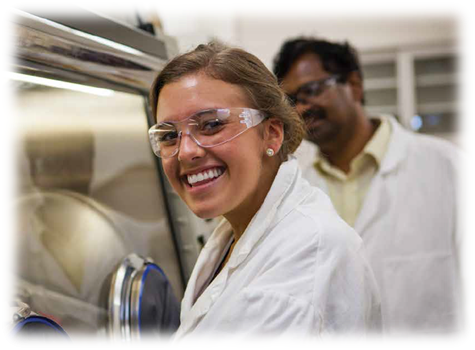 Eligibility
To qualify for the program, students must:
Be at least 18 years of age;
Be a U.S. Citizen;
Have a cumulative GPA of at least 3.0;
Be currently enrolled full-time in an accredited college or university (sophomore year or higher); and
Participate in the full 10-week program
Stipend
MLEF is a paid educational program.
A weekly stipend of $600 for undergraduate students;
A weekly stipend of $750 for Master's students;
A weekly stipend of $850 for Doctoral and Post-Doctoral students;
Approved travel costs to and from the host site;
Approved travel to the Technical Forum presentations and graduation; and
Approved housing allowance.
Locations
Department of Energy Headquarters, Washington, DC
National Energy Technology Laboratory, Pittsburgh, PA; Morgantown, WV; Albany, OR
Strategic Petroleum Reserve, New Orleans, LA
 
Preserving the Memory of George Thomas "Mickey" Leland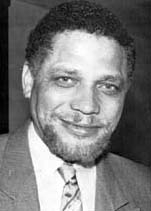 Mickey Leland was a prominent legislator in Congress for 10 years.  He was an advocate on hunger, public health and cultural diversity issues.  On August 8, 2000, then-Energy Secretary Bill Richardson renamed the Office of Fossil Energy's Minority Education Initiative the Mickey Leland Energy Fellowship.
The Secretary stated that the ceremony to honor the late Congressman from Houston - who died on August 7, 1989, in a plane crash - would be a way to "remember a great American who dedicated his life to expanding human potential."
The Secretary also said that he "could find no better way to honor his memory than to endow his name on a program that will elevate the opportunities for future generations of minority students."
Since 2000, the MLEF has provided valuable research opportunities and experience to over 450 students who have graduated from the program.
More information on appointments and profiles of prior Mickey Leland Energy Fellows is also available online.
For more information please contact:
Alan Perry
U.S. Department of Energy
1000 Independence Ave., SW
Washington, DC 20585
202-586-4484