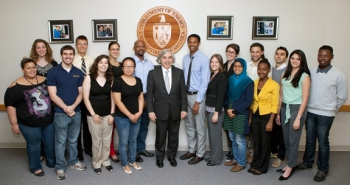 Secretary Moniz with the 2013 Class of Mickey Leland Energy Fellows
A 10-Week Summer Educational Program
For 20 years, the Mickey Leland Energy Fellowship (MLEF) Program has provided students with opportunities to gain hands-on research experience with the Department of Energy's (DOE) Office of Fossil Energy (FE).  This program has mentored several hundred of the best and brightest students from across the nation for future careers in science, engineering, technology and mathematics (STEM) and provided insight into how the DOE is working to meet the energy challenges of the future.  MLEF was awarded the Secretary of Energy's EEO/Diversity Best Practices Award in 2007.
The goal of the MLEF program is to improve opportunities for women and minority students in STEM majors, however all eligible candidates are encouraged to apply.  Selected candidates will train under the mentorship of program officials and scientists on focused research projects consistent with the mission of the Office of Fossil Energy.  During the 10 weeks, Fellows will receive a stipend and some students may be eligible to receive housing and travel allowance for the duration of the program.
At the conclusion of the program, Fellows attend a "Technical Forum" where they will present their research findings and tour a technical site located nearby (the location of the technical forum changes every year).  Below is a glimpse of the research opportunities past Fellows have experienced.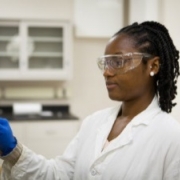 As a participant in the Mickey Leland Energy Fellowship (MLEF) program, LaDena A. Bolton tried to improve the conductivity of the solid electrolyte in high performance batteries through testing various lithium rich compounds at the National Energy Technology Laboratory (NETL). (Photo courtesy of NETL)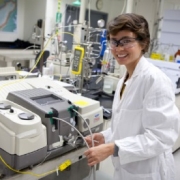 Isis Fukai is utilizing infrared-spectroscopy and scanning-electron-microscopy to determine the viability of gas shales to store carbon dioxide. (Photo courtesy of NETL)
Read more stories from program participants and learn details on how to apply to this excellent opportunity online.
Preserving the Memory of George Thomas "Mickey" Leland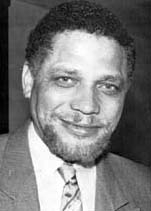 Mickey Leland was a prominent legislator in Congress for 10 years.  He was an advocate on hunger, public health and cultural diversity issues.  On August 8, 2000, then-Energy Secretary Bill Richardson renamed the Office of Fossil Energy's Minority Education Initiative the Mickey Leland Energy Fellowship.
The Secretary stated that the ceremony to honor the late Congressman from Houston - who died on August 7, 1989, in a plane crash - would be a way to "remember a great American who dedicated his life to expanding human potential."
The Secretary also said that he "could find no better way to honor his memory than to endow his name on a program that will elevate the opportunities for future generations of minority students."
For 20 years, the MLEF has provided valuable research opportunities and experience to hundreds of students who have graduated from the program.