Karen Wayland - Deputy Director for State and Local Cooperation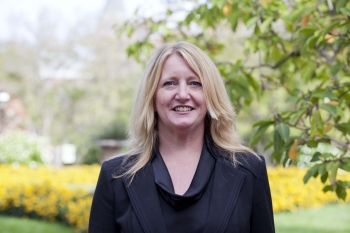 Dr. Karen Wayland is the Deputy Director for State and Local Cooperation in the Office of Energy Policy and Systems Analysis at DOE. She is a recognized expert in national energy and environmental policy and comes to DOE after two years of providing strategic consulting to business and nonprofit clients. 
Dr. Wayland served as a Senior Advisor to Speaker of the House Nancy Pelosi and was named by Roll Call magazine as one of Capitol Hill's top 10 energy staffers to know. In that role, she worked on comprehensive climate legislation, response to the BP oil spill, and a host of other energy and environmental legislation. She was the Legislative Director at the Natural Resources Defense Council for five years, where she oversaw the 400-person organization's federal environmental initiatives. During that time she chaired the national environmental community's climate and energy coalition. Dr. Wayland has also worked in the office of Senator Harry Reid, where she covered energy, nuclear waste, water, and Native American issues as a Congressional Science Fellow.  
Additionally, Dr. Wayland has also directed the Earth and Marine Sciences Program at Earthwatch, a nonprofit organization that funds scientific research by recruiting paying volunteers. Dr. Wayland has appeared as a commentator on major TV and radio programs, including CNN, MSNBC, and the Diane Rhem Show. Dr. Wayland received a M.S. from the University of Connecticut and a Dual Ph.D. in the fields of geochemistry and resource development from Michigan State University; her research has focused on environmental geochemistry, watershed management, and hydrologic modeling. She is an environmental scholar at Georgetown University's Science in the Public Interest, where for six years she taught a seminar on national science policy.