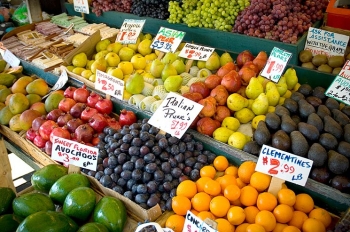 Eating locally grown produce is healthy and reduces greenhouse gas emissions. | Photo courtesy of ©iStockphoto.com/CDH_Design
Are you getting excited thinking about how you plan to support your local economy, your larger environment and also your health this spring? I know I am!
The nicer weather the eastern regions have been experiencing lately has got me thinking about farmers' market season and buying locally grown food. Most people don't realize how beneficial it is, and not to mention much tastier, to purchase produce grown in farms nearby. Even though it's April and farmers' market season doesn't usually begin until May, I've heard of a few that already popping up.
There are many health and environmental benefits of "eating green," and the good news is that it's totally easy to do. Buying locally means you're reducing fuel costs and greenhouse gas emissions that result from non-locally grown food being transported to you.
One easy way to get your seasonal fruits and veggies directly from a farmer is to sign up for a CSA, or Community Supported Agriculture. As a member of a CSA, you purchase a "share" from a farmer, which consists of a box of vegetables and fruits (depending on the season and that particular farm), and then a box of such things is sent directly to you each week throughout the farming season.  It's pretty easy and kinda cool.
I'm sure you have your own ideas about supporting your community and environment this season, but maybe buying and eating locally is something new to consider!