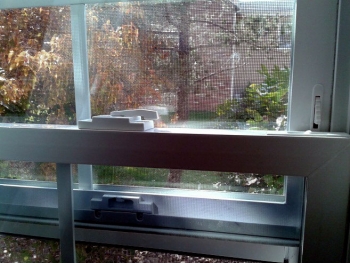 Look at this gorgeous, energy-efficient, double-hung window! I requested the little locks on the side so they can't be opened too far. | Photo courtesy of Andrea Spikes.
In August, I told you about the saga of our aging windows and how we finally decided to replace them all. Working with a local contractor whom a friend recommended, we selected windows with a low U-factor, low emissivity (low-e) coatings, and a lower solar heat gain coefficient (SHGC). Since we have all west-facing windows in our condo, blocking out the late day sun in our high altitude is a priority. These aren't top-of-the-line windows, but they fit our budget as well as our energy efficiency requirements.
It took three days for the installation, and the first thing we noticed was how much nicer they are! Seems silly, especially since they are fairly basic in design, but the old windows were probably 15 years old so any kind of new model would look fabulous.
The next thing we noticed was how much cooler it was in the rooms (in August, no less, with 90+ degrees). No more afternoon glare and heat from the sun, thanks to the low-e coating. I also noticed that the rooms are a bit quieter with the windows closed -- a sure sign that our old windows had poor weatherstripping.
But the real test came with last week's cold snap. It was an early hard freeze for the Denver area, and since we live close to the mountains it got a little colder for us. Actually, I was glad: Not only could I stop worrying about the fact that I'd quit watering my patio plants every day (slacking off as a new parent), but also it meant we'd have fewer insects to contend with and a more rapid changing of fall colors. Okay, I'd been wanting to wear warmer clothes, too.
With the old windows, I could count on not being able to see out of them from the condensation until later in the day (if I left the insulating blinds closed), and scraping frost off the inside on the coldest nights. The new windows performed admirably, though. I honestly cannot feel cold air unless I put my hand against the glass now.
I'd like to say that we've saved money on our utility bill by replacing the windows, and that's certainly possible, but it's too early to review the numbers. It will depend on whether rates change and whether we use our heating system less, so I'll be looking at actual usage compared to last year over the next several months.
The only seriously drafty part of the condo now is the fireplace. It's a cold air nightmare, even with the damper shut and glass doors closed. That'll be the next project to address. In the meantime, check out some ways to reduce heat loss from the fireplace.