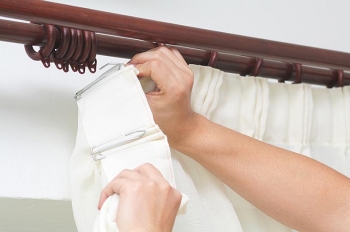 Installing blinds or draperies can help you save on cooling costs during the summer months. | Photo courtesy of ©iStockphoto.com/powershot
March has begun, and as millions around the world prepare to "spring forward" one hour for Daylight Saving Time on March 10th, you might consider this as an opportunity to also save some money to use in the upcoming summer months by saving energy now.
If you're like me, many of your clocks may be just out of reach, so you require a ladder or step stool to change the time forward. I, like many people, will also take this opportunity to change out the batteries in the smoke detector as well. But while you have that ladder or stool out, why not also change a few of those old, lingering incandescent light bulbs in your ceiling lighting? Compact fluorescent light bulbs can save you a bundle, and LEDs are even more efficient and can really help you keep more of your money in your pocket to spend on other things you enjoy. Check out more information on energy-saving lighting choices.
Daylight Saving Time can also be regarded as heralding the oncoming of spring (which officially begins March 20th), so this might also be a perfect time to start performing some routine maintenance on your air conditioning system. The easiest thing you can do to make sure you start the warmer months with an air conditioning system working at high efficiency is to clean or change out the filter, and for some people this filter may be out of reach (which is when your stool or ladder comes into play). Visit Energy Saver for tips on how to maintain your air conditioner to maximize energy savings.
Did you know that by closing draperies or blinds, you can save on cooling costs during the warmer months? And now that spring and summer are just around the corner, why not use that ladder or stool to install blinds or draperies that can help block sunlight and save even more money? Certain draperies and blinds can help cut down on heat gain in your home by up to 33%, improving the comfort of your home in the warmer months while also cutting your cooling costs. Energy Saver can help you determine the right kind of draperies and blinds for your home.
These are just a few convenient tips to help you take advantage of that stool or ladder you might be getting out to adjust your clocks. Visit Energy Saver for a more comprehensive list of how to prepare for spring and let the savings begin!