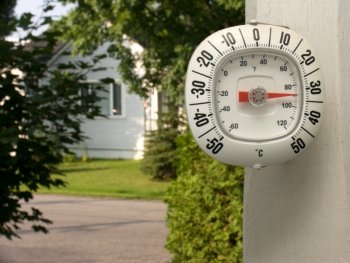 Energy Saver can help you save energy and money this spring. | Photo courtesy of iStockphoto.com/eyedias
Spring is here and in the spirit of warmer days and energy savings, I would like to share with you a poem that I wrote, with ways you can save energy and money this season.  Enjoy!
Spring is now upon us, and the weather is getting sunny,
But no matter what the weather brings, it's a good time to save energy and money.
You can start with a home energy audit, whether it's professional or DIY,
Where you can check your home's lighting and insulation, and see if air leaks by.
If you have an air leak, you don't have to wait,
You can caulk and weatherstrip as well as insulate.
If your air conditioner is turned up high, and causing your energy bill to jump,
Read this article for an AC alternative: an energy efficient heat pump! 
For more savings on your bills, you can go to the home improvement store and see,
You have energy efficient lighting choices: halogens, CFLs, or LEDs. 
If you're looking to save energy this season, and still have time to enjoy those longer days,
Read these tips on saving energy this spring – there are plenty of easy, low cost ways.  
And if you still want more tips for your home, please do yourself a favor,
Check out our site often for the latest energy saving information, known as Energy Saver.