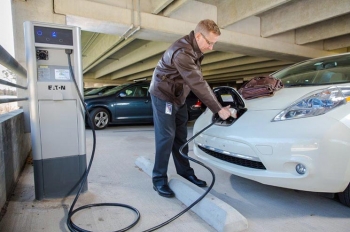 An increasing number of employers are offering workplace charging. | Photo courtesy of Biogen Idec, Inc., a partner of the Workplace Charging Challenge.
Casual workplace discussions among colleagues often involve recommendations on everything from the hottest television show to the best place to go for cheesesteaks during your upcoming trip to Philadelphia. Through a new nationwide initiative, the Energy Department hopes workplace plug-in electric vehicle (PEV) charging will become one of the top discussion topics around the water cooler.
An increasing number of U.S. employers are offering workplace charging as a benefit to its employees, and more and more employees are taking advantage. Increasing access to PEV charging not only contributes to employee retention, but also signals organizational leadership in technology and sustainability. For PEV drivers whose employers don't offer workplace charging, there are some steps that employees can take to encourage the adoption of a program.
Step #1: Assess employee interest
The size of the organization will determine what steps you should take to gauge employee interest. In a smaller organization, a simple discussion or focus-group between colleagues may be sufficient. However, a larger organization may require a more formal process, such as an employee-wide questionnaire. Some easy sample questions to ask might include:
Do you currently own an electric vehicle?
If so, how often do you drive it to work?
If not, do you plan to purchase one in the next year?
If you drive to work, how far is your trip?
If workplace charging were available, would you use it?
Would you be willing to pay a small fee for workplace charging?
Step #2: Create a proposal
Based on the results of the assessment, you can create a proposal for management to describe the infrastructure options. There is no one-size-fits-all approach to workplace charging. Charging infrastructure can include everything from a simple and inexpensive outdoor electrical cord to a much more expensive DC Fast Charger. By identifying realistic goals, you can make an effective proposal for action that is more likely to be adopted by your organization. In order to gather the most accurate information, you may want to collaborate with the appropriate experts to consider:
• Infrastructure options such as the amount, type, and cost of charging equipment
• Who will own the equipment, where the chargers may be located, and who can install them
• A potential company policy including hours of use, service fees, signage, and a point of contact for ongoing employee communication and maintenance.
Step #3: Gather decision makers
Once you have finished your proposal, you'll want to present the findings to your employer and other key decision-makers. These decision-makers may include senior level executives, building owners (if different from employer), facilities managers, human resources staff, accounting staff, and legal counsel. It is important to discuss the long-term needs of employees as well as cost implications for the organization. Also, be sure to mention the benefits of workplace charging both to the employer and employees. Involving a variety of stakeholders early on can help clear the way for workplace charging.
Step #4: Start charging!
Your work is not done. After your employer has agreed to adopt workplace charging, you can step up as a champion of the cause. Your employer will have a lot of work to do, so staying actively involved in the process and promoting it among your co-workers will keep it moving forward. Your employer will need to begin obtaining local permits, coordinating with local utilities, and identifying a qualified electrician for installation. Once the stations are installed, they will also need to set up appropriate signage and inform employees of the new charging opportunity as well as the rules surrounding their use. While you may not be able to implement the installation itself, you can assist your employer in educating co-workers about workplace charging and offering your knowledge and support throughout the program implementation.
If you're interested in encouraging your employer to pursue workplace charging, check out the Workplace Charging Challenge and additional Workplace Charging Resources. In addition, don't forget to contact your local Clean Cities coalition, who can assist you in spreading the word about workplace charging.