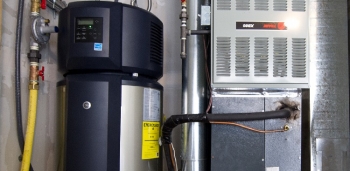 Purchasing a water heater with the ENERGY STAR® label ensures you are buying an energy efficient appliance designed to save consumers money. | Photo courtesy of Dennis Schroeder, National Renewable Energy Labs
One of the most energy-sucking appliances in your home is the water heater. If you consider how much time, heat, and energy you need to boil a small pot of water for cooking pasta, you can see how a 20 gallon water heater could run up your utility bills. In fact, on average water heating makes up 14-18% of American energy bills with an annual cost of $400-$600.
So when your water goes cold and it's time for a new appliance, it is helpful to know your energy needs. Do you need a gas or electric water heater? Small or big? Tankless or conventional? How much will I need to spend? All of these questions can be answered with the material covered in the short list of resources available through Energy Saver below.
What kind of water heater do you need?
Water heaters come in a variety of styles. There are conventional, tankless, indirect, and even solar water heaters. In addition, some are powered by geothermal energy, fuel oil, electricity, natural gas, and propane. To make sure you select the one that fits your needs best (cost/size/use/system compatibility), be sure to read our Energy Saver guide for Selecting a New Water Heater.
Tax Credits and Rebates
Since water heaters are built to last 20 years, they can be quite expensive. Nevertheless, there are plenty of ways to save cash on a new one. For instance, if you purchase a solar water heater, you could be eligible for a 30% federal tax credit. This specific tax credit is available until December 31, 2016. To learn more about this tax credit and others, please look into this Residential Renewable Energy Tax Credit.
Your state may also have its own tax incentives available for the purchase of energy efficient water heaters or heat pumps. You can find a full list of tax incentives and rebates on the Database of State Incentives for Renewables & Efficiency.
In addition, your local department stores may have Labor Day sales on appliances. These end-of-season sales can sometimes save you hundreds of dollars off a full price water heater. As always, we recommend looking for water heaters with ENERGY STAR® on the label, which adhere to a specific set of energy efficiency standards aimed at saving consumers money. You can find an entire list of Energy Star-rated water heaters on their website.
Keeping the Bills Down
While buying a new water heater can solve some energy efficiency problems, many can be remedied with smart use.
A few tips include:
Use less hot water (obviously, but #1, nevertheless)
Wash your clothes with cold water
Set the water heater temperature to 120 degrees Fahrenheit
Install low flow shower heads
For the full list of energy efficiency tips and more information and suggestions for purchasing a new energy efficient water heater, be sure to look at our new Energy Saver 101 Infographic: Everything You Need to Know About Water Heaters.