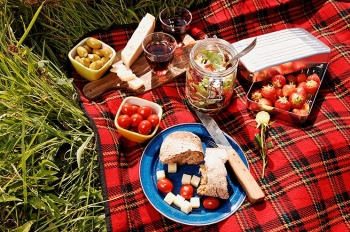 A picnic is a good way to save energy whle enjoying the summer weather. | Photo courtesy of ©iStockphoto/Silberkorn
Everyone loves a picnic, but did you know picnicking is also a great way to save energy? If you do it the right way, you'll save energy on cooking and lighting and enjoy all the benefits of summer at the same time!
First, choose foods that do not need to be cooked to enjoy: salami and cheese, salads, fruits, and sandwiches are all great options. Next find a park, field, bench, or trail that you can walk or bike to from home (your backyard works too!). Lay out a blanket and some goodies and enjoy an evening outside and unplugged.
You'll save energy and money by turning off the stove, oven, lamps, and air conditioner (and probably the television, too). Walking or biking to your picnic and throwing in a game of Frisbee or catch can also be a fun way for the whole family to get some exercise and spend quality time together, all while being energy efficient.
Sounds fun, doesn't it?