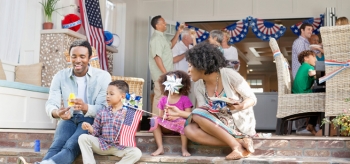 Whether you BBQ with family or take a road trip, save money and energy this Independence Day. | Photo courtesy of ©iStockphoto.com/HeroImages
Fireworks, BBQs, and blockbuster alien movies are some of the first things that come to mind on Independence Day. But as we celebrate our Nation's birthday and independence from the British, let us not forget to be friendly to our national grid and vehicles.
Below you'll find a list of tips to keep your family and friends cool, your vehicle in tiptop shape, and energy bills and carbon footprint to a minimum.
Keep your Car in Shape and Save on Fuel
Be sure to help save on fuel by properly inflating your tires before heading out on the road to watch the fireworks or visit family and friends. Keeping a tire at optimal pressure will keep those MPGs where you want them during that traffic jam to the beach.
Also, consider cutting down on the number passengers or cargo in your vehicle before heading out the door. An extra 100 pounds in your vehicle could increase gas mileage costs by $.08 per gallon.
Drivers should also hit the gas station early if they want the best prices. With all the travel demand anticipated over this holiday weekend, the price per gallon is expected to spike dramatically. For more ideas to keep your vehicle in tiptop shape over the holiday, check out this list of energy efficient driving tips.
Hit the Department Stores for Energy Saving Products
If your home has been hurting for energy-efficient appliances, be sure to take advantage of some of the best summer sales this weekend. Fourth of July discounts on ENERGY STAR-rated appliances and CFL/LED light bulbs can save you more money up front and for years into the future. Check for the ENERGY STAR logo on all products. Also, be sure to look for rebates on these appliances.
Changing incandescent light bulbs to CFLs or LEDs can save as much as 80% a year on lighting costs. Replacing 15 inefficient incandescent bulbs in your home with energy-saving bulbs could save you about $50 per year. For the greatest savings, replace your old incandescent bulbs with ENERGY STAR-qualified bulbs. For more information on improving your home's lighting, please see our Lighting Tips page.
Efficient Home Barbecue
When prepping your home barbecue this Friday, be sure to grill outdoors, sparing your home's oven and other appliances some electrical labor. Your home's air conditioning unit and the electricity bill will absolutely thank you. In addition, using charcoal or gas appliances for grilling over electric is slightly better for the environment.
In addition, if your party is running late, consider using solar-powered decorative lighting to keep your guests in sight while saving on some watts well into the evening.
For all other seasonal energy saving tips, check out our Spring and Summer Energy-Saving Tips guide.