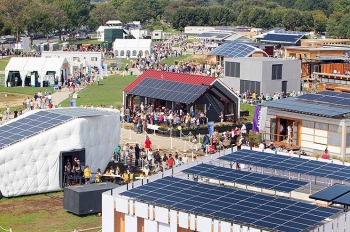 Visitors tour the U.S. Department of Energy Solar Decathlon 2011 in Washington, D.C., Friday, Sept. 30, 2011. | Photo by Stefano Paltera/U.S. Department of Energy Solar Decathlon
Being energy-conscious and sustainable requires more than good will; it depends on smart and innovative energy-efficient design. As such, some organizations and building associations award companies and individuals that excel in efforts of green design and construction. 
One is the National Association of Home Builders (NAHB) Green Awards, which holds its event every year during the NAHB International Builders' Show (IBS). IBS is the world's largest convention for light building construction and innovation, featuring hands-on demonstrations, models, and over 300 building industry categories of products. The annual Green Awards, held at the end of the convention, highlight organizations, companies, and individuals that excel in residential green design and construction. The winners were celebrated last week in Las Vegas; you can visit the NAHB website for a full list of the winners. 
But it's not just professional associations that award innovative green design. The U.S. Department of Energy's very own Solar Decathlon competition recognizes groundbreaking design work as well. What's more, the competitors at the Solar Decathlon aren't yet seasoned professionals in the industry—they're college students. Don't think that their work is any less innovative, beautiful, or forward-thinking just because they are still in school. Teams over the years have truly pushed the envelope in developing beautiful, energy-efficient, sustainable homes that captures the imaginations of all who visit them.
Last year, numerous students preparing for the Solar Decathlon 2013 attended IBS 2011 in Orlando, Florida while preparing for the competition. No doubt they took some inspiration from the products and designs they saw there. You can get a sneak peak of the teams' homes on the Solar Decathlon website, where you'll find renderings and computer-animated walkthroughs of the homes.
The competition will be held in October at Orange County Great Park in Irvine, California, where visitors will have the opportunity to tour the homes themselves. If you can't make it in person, keep an eye on the Solar Decathlon website for more about these amazing homes and the competition. You just might get some ideas for your own energy-saving home project!